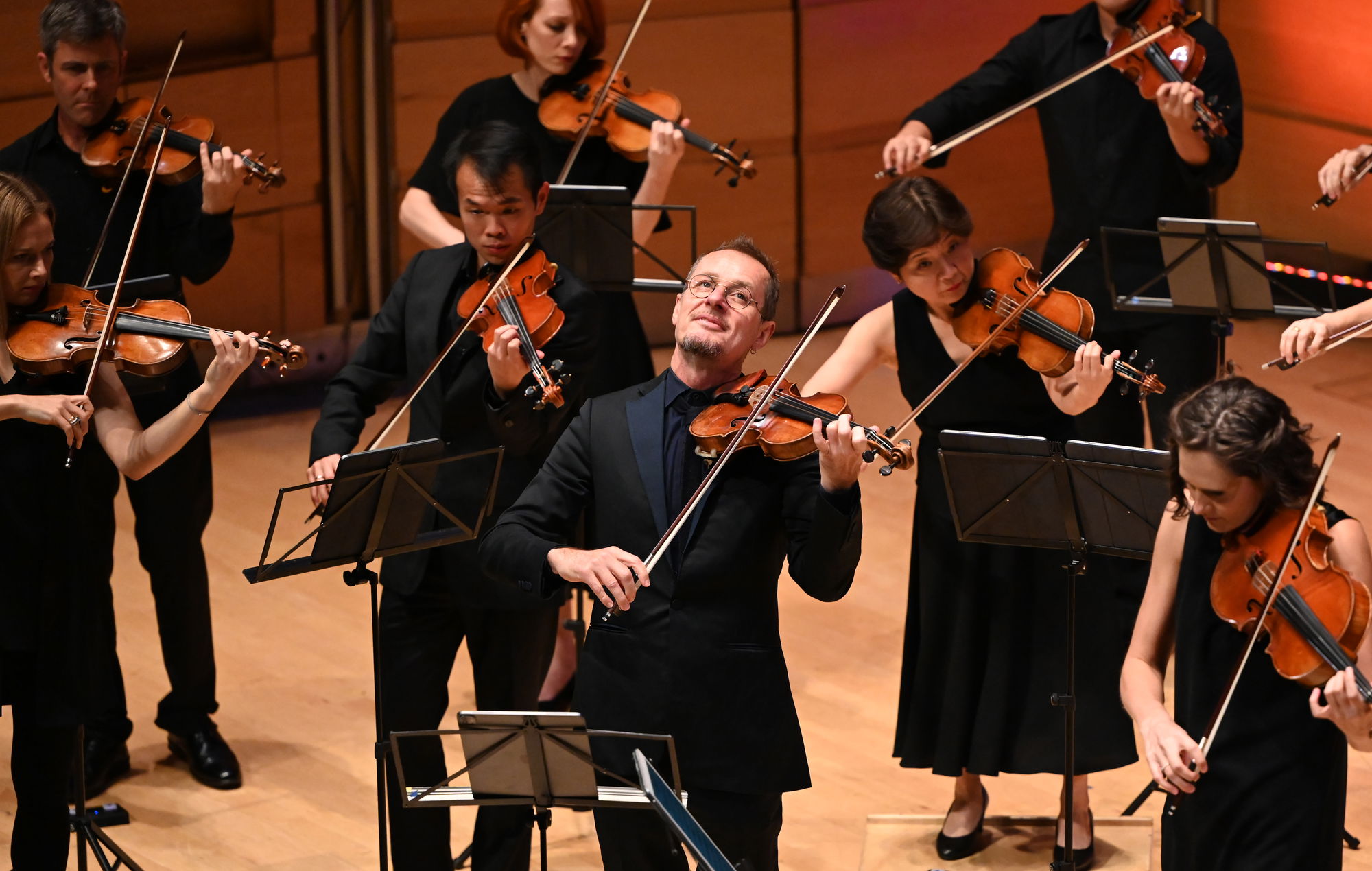 Australian Chamber Orchestra
UKARIA festival
Saturday 3–Sunday 4 June
'… if there's a better chamber orchestra in the
world today, I haven't heard it.'
– Guardian
The Australian Chamber Orchestra and their Artistic Director Richard Tognetti make a much-anticipated return to UKARIA with a three-program weekend festival showcasing their world-renowned energy and vitality. The concerts feature repertoire from the Baroque to the Contemporary, with virtuosic solos from Richard, Principal Violin Satu Vänskä and guest soprano Cathy-Di Zhang, and a rare opportunity to hear the extraordinary string masterpiece From the Monkey Mountains by Pavel Haas.

Richard Tognetti
Director and Violin
Australian Chamber Orchestra
Weekend Package
(3 concerts and 2 Meals)
Concerts Only
(3 concerts and no meals)
WANDERERS OF THE NIGHT
SATURDAY 3 JUNE 4.00PM

'Tognetti has transformed the ACO into a genuine Australian cultural icon, routinely voted one of the best orchestras of its kind on the planet.'
– Australian Financial Review

In much the same way that a landscape is never the same twice, a piece of music is illuminated in new and unpredictable ways as it interacts with the environment in which it is heard. To open their inaugural UKARIA festival, the ACO weave a crepuscular tapestry of music from the Baroque to the present day, as the light recedes over the Mount Barker Summit.
Rising-star soprano Cathy-Di Zhang (who recently made her mainstage debut with Opera Australia in Mozart's Don Giovanni) joins the ACO as soloist in works by Osvaldo Golijov and Richard Strauss. The achingly beautiful 'Morgen!' celebrates the renewal of light and life, before the program concludes with Janáček's 'Good Night!' from On an Overgrown Path.
BOOK SINGLE TICKETS


THE MONKEY MOUNTAINS
SATURDAY 3 JUNE 6.00PM

In 1941 Pavel Haas was deported to the Theresienstadt concentration camp, where he joined several other Moravian-Jewish composers including Viktor Ullman and Gideon Klein – all of whom were later executed in Auschwitz-Birkenau. 'Our will to create art has always been as strong as our will to survive,' Haas once said, but indeed it was Klein who managed to coax Haas out of his despair and back into composition.
Haas's String Quartet No. 2 From the Monkey Mountains (1925) is today considered one of the masterpieces of the twentieth century. Inspired by the Czech highlands near Brno, its four programmatic movements are reminiscences of times spent there during a summer vacation: 'Whether it is the rhythm of a broad landscape and birdsong, or the irregular movement of a rural vehicle; be it the warm song of a human heart or the cold silent stream of moonlight [...] it is always movement that governs everything,' the composer wrote. In this special arrangement, the original string-quartet instrumentation is expanded to provide the perfect showcase for the glorious forces of an eleven-piece ACO. In the first half, Richard Tognetti appears as soloist in Mozart's popular Turkish Violin Concerto (No. 5).

BOOK SINGLE TICKETS


FRANCK'S VIOLIN SONATA
SUNDAY 4 JUNE 2.30PM

'It was a rare privilege to hear the ACO play at UKARIA, where it made the room resound like never before [...] the clarity of the acoustics put their playing under the microscope, revealing subtleties that would be lost in a large hall.'
– The Advertiser
Written as a wedding present for the 28-year-old Belgian virtuoso Eugène Ysaÿe, César Franck's Sonata in A for Piano and Violin was first performed publicly from memory in almost total darkness at the Musée Modern de Peinture in Brussels (no artificial sources of light were permitted by the gallery authorities). Today it is celebrated not only as one of the most treasured works of the chamber repertoire, but also as one of the finest examples of cyclical form ever written.
In a French-focussed program exclusive to this festival, the ACO concludes the weekend with music by Rameau, Debussy, Ravel, and Boulanger, culminating with Franck's magnificent sonata, featuring Satu Vänskä as soloist in the ultra-high-definition acoustics of UKARIA.

BOOK SINGLE TICKETS
Photos:
The ACO: Nic Walker
Richard Tognetti
Artistic Director and Lead Violin

Richard plays the 1743 'Carrodus' Giuseppe Guarneri del Gesù violin kindly on loan from an anonymous Australian private benefactor. His Chair is sponsored by Peter McMullin AM and Ruth McMullin, Louise Myer and Martyn Myer AO, and Andrew and Andrea Roberts.


Satu Vänskä
Principal Violin

Satu plays the the 1726 'Belgiorno' Stradivarius violin kindly on loan from Guido Belgioro-Nettis AM & Michelle Belgiorno-Nettis. Her Chair is sponsored by David Thomas AM.


Aiko Goto
Violin

Aiko plays her own French violin by Jean-Baptiste Vuillaume. Her Chair is sponsored by Anthony & Sharon Lee Foundation.


Ilya Isakovich
Violin

Ilya plays a 1590 Brothers Amati violin on loan from the ACO Instrument Fund. His Chair is sponsored by Meg Muldrum.


Ike See
Violin

Ike plays his own 2021 Zygmuntowicz violin. His Chair is sponsored by Ian Lansdown & Tricia Bell.


Thibaud Pavlovic-Hobba*
Violin

Thibaud plays a 1756 Giovanni Battista Gabriella violin kindly on loan from Helena Rathbone.


Stefanie Farrands
Principal Viola

Stefanie plays her own 2016 viola made by Ragnar Hayn in Berlin. Her Chair is sponsored by peckvonhartel architects.


Elizabeth Woolnough
Viola

Elizabeth plays her own 1968 Parisian viola by Pierre M. Audinot. Her Chair is sponsored by Terry Campbell AO & Christine Campbell.


Julian Thompson
Cello

Julian plays a 1729 Giuseppe Guarneri filius Andreæ cello with elements of the instrument crafted by his son, Giuseppe Guarneri del Gesù, kindly donated to the ACO by the late Peter Weiss AO. His Chair is sponsored by the Grist & Stewart Families.


Eliza Sdraulig *
Cello

Eliza plays a 2011 cello by Roberto Cavagnoli.


Maxime Bibeau
Principal Double Bass

Max plays a late-16th-century Gasparo da Salò bass kindly on loan from a private Australian benefactor. His Chair is sponsored by Darin Cooper Foundation.

* Guest Musician

Cathy-Di Zhang
Guest Soprano

Recently returned award-winning Australian soprano Cathy-Di Zhang is an Associate of the Royal Academy of Music, London. For Opera Australia, she has performed the roles of Zerlina (Don Giovanni), Micaëla (Carmen) and Rosina (The Barber of Seville). For Pinchut Opera, she performed the roles of Créuse in Médée and Amour/La folie in Neil Armfield's acclaimed production of Rameau's Platée. For State Opera South Australia, she sang Mimi in 'Bohème on the Beach' for over 6,000 people and for Victorian Opera, she created the role of Zhu Ying Tai in Richard Mills' new work, The Butterfly Lovers. Other opera credits include Cendrillon, Fiordiligi (Così fan tutte), Lauretta & Fella (Gianni Schicchi), Gretel (Hansel and Gretel) and Lisa (La sonnambula).
Coming up this season, Cathy-Di will be appearing in concert with the Willoughby Symphony Orchestra and with the Australian Chamber Orchestra at UKARIA. She will be taking the Butterfly Lovers to Singapore with Victorian Opera, going back on tour with Opera Australia as Rosina and returning to Pinchgut Opera in 'The Pleasures of Versailles' concerts in Sydney and Melbourne.