BUS SERVICE
UKARIA offers a bus service from the Adelaide CBD to the Cultural Centre for selected performances presented by UKARIA Cultural Centre (please note we do not offer a service for Adelaide Festival or State Opera presented concerts).

Cost
Return bus fares are $30 per person

Departure Point
The bus collects patrons from the corner of South Terrace and Hutt Street, and returns to this location after the concert.* If you have Google Maps on your smartphone, tablet or computer, typing in 'southhutt corner' will show you the exact departure point. The size of the bus will vary depending on the number of bookings. If there are less than 5, the bus may be replaced by a car. The driver will display an A frame sign next to their vehicle, so look out for the red UKARIA logo.

* If there is a meal after the concert, the bus will return to the pick-up point following the meal.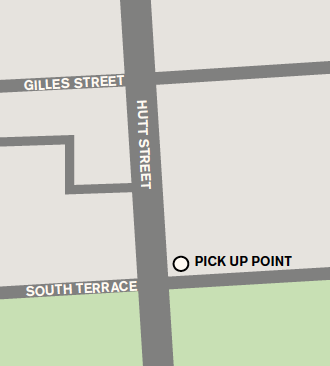 Parking
There is ample and unrestricted parking along South Terrace on both Saturdays and Sundays.

How to Book

Bus transfers can be booked via the relevant event page on our website.

Terms and Conditions
The cost of the ticket is a flat fee of $30 return. We do not offer a reduced price for one-way travel. If you arrive after the departure time and miss the bus, your concert and bus ticket are non-refundable. Tickets for the bus service will be taken off sale 2 business days before the date of each concert.