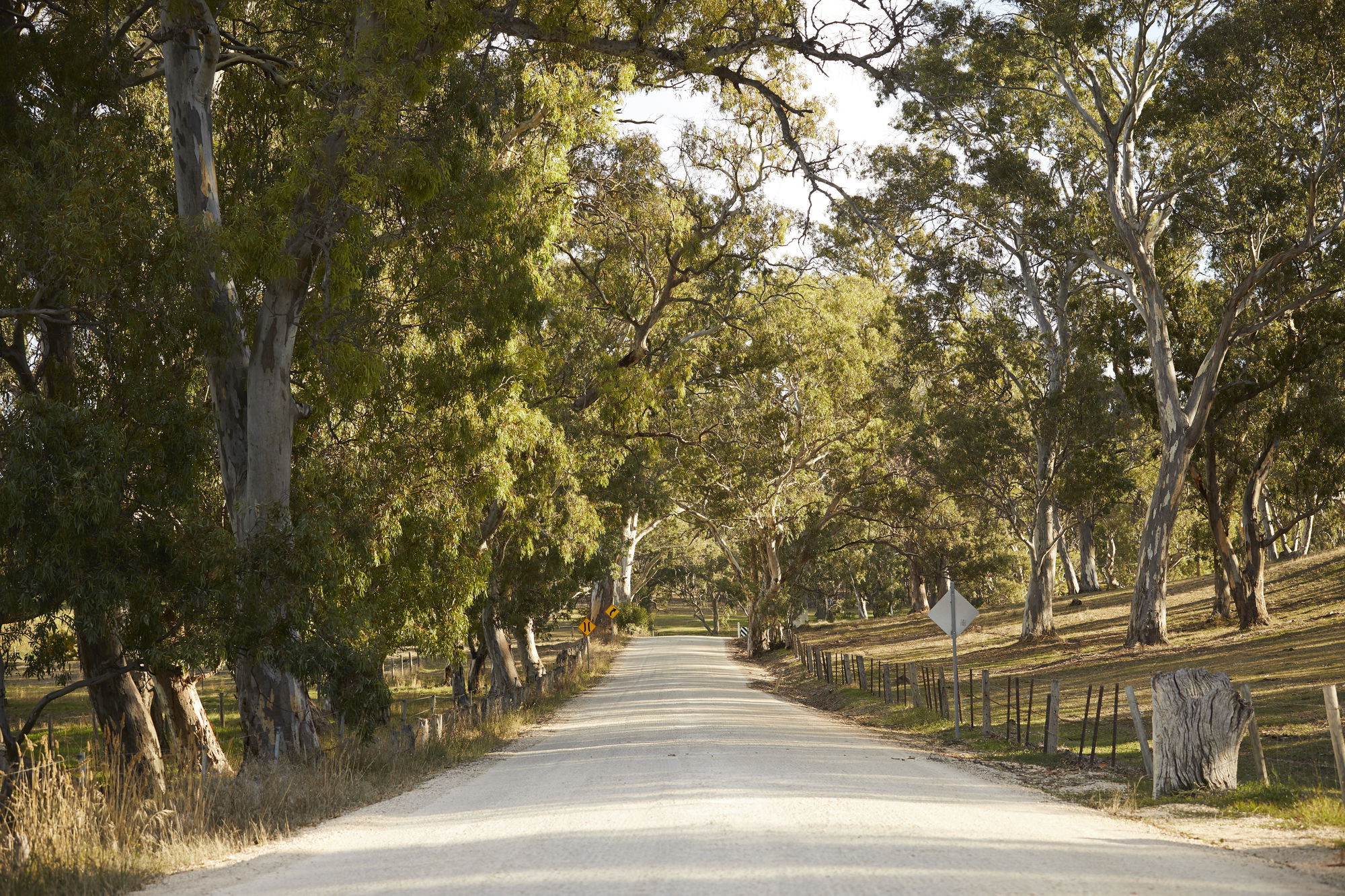 UKARIA Cultural Centre
119 Williams Rd, Mt Barker Summit SA 5251
Perched on the hillside of the Ngeringa property in the picturesque Adelaide Hills just outside Mount Barker, the Cultural Centre is located just 40km from the Adelaide CBD and is an easy drive on the South Eastern Freeway. The Bald Hills Road exit bypasses the township of Mount Barker and takes you straight to UKARIA's tranquil setting, surrounded by rolling hills and vineyards.
UKARIA Cultural Centre is 1km from the junction of Williams Road. Please drive slowly as Williams Road is unsealed.
What are the transport options to the UKARIA Cultural Centre?
By car
Travelling by car is currently the most convenient option. See map above.
There is ample parking on site and multiple entry points from the car park through the garden to the building on paved paths.

By taxi or Uber
While city taxis are happy to bring visitors up the hill, there is a local taxi service: Mount Barker Taxis https://www.mtbarkertaxis.com/
Visitors may find ride-sharing service Uber appropriate for their touring needs. Download the Uber app from the Apple App Store or Google Play.

By bus
UKARIA offers a bus service for selected performances for $30 per person. When a bus is available, it is listed at the bottom of the concert event page. More information can be found here.
Is UKARIA wheelchair friendly?
Yes. If you require mobility-impaired seating during a concert, please let us know in advance (by contacting us on (08) 8227 1277 or by email at info@ukaria.com) so we can reserve your seat(s). On the day of the performance, please see a member of our Front of House team in the foyer who will direct you to your seats. Please note: if you have not arrived ten minutes prior to the start time of the concert, your seats will be offered to another patron.

Are there disabled parking bays?
Yes. There are multiple disabled parking bays at the top right of the Cultural Centre. Head straight up the driveway on your right hand side, where you will see 'Disabled Parking' signs near the Garden Terrace.
Can I visit UKARIA outside of event hours?
The UKARIA Cultural Centre is generally not open to the public outside of event hours. However, it may be possible to schedule a visit by appointment. For access outside of concert hours, please contact (08) 8391 0986 or email info@ukaria.com.
What time do I need to arrive before the event?
We recommend arriving at least thirty minutes before the scheduled start time of a performance. The gates to the Cultural Centre open ninety minutes before each event, and doors to the concert hall generally open thirty minutes prior to the commencement of a performance. If you have reserved mobility-impaired-access seating for the performance, you will need to be in your allocated seats at least ten minutes prior to the start of the concert otherwise we will allocate your seats to another patron.
What COVID-19-related safeguards do you have in place?
We have a number of COVID safe measures in place to help keep our community safe:
Face masks are strongly recommended for all patrons while inside our venue, including during the performance. Please bring your own mask;
Well maintained and effective air conditioning systems that maximise ventilation with fresh air;
Regular cleaning of high-traffic and high-touch areas with hospital-grade disinfectant;
Hand sanitiser is available throughout the venue; and
COVID-19 safety training for all staff.
What should I wear?

UKARIA does not have a dress code; you should wear what you feel comfortable in with most patrons wearing smart casual attire.
How many seats are there in the venue?
220. The UKARIA Cultural Centre was purposely designed for chamber music. Click here for more about the Building
Can I take photos or videos during the performance?
We welcome photography inside the main hall before or after a concert, or at interval if applicable. During performances, all unauthorised photography and recording of the artists is strictly prohibited.
Is there Wi-Fi available?
Yes, the UKARIA Cultural Centre has free Wi-Fi for guests. Please ask a staff member for the password if you require access.
I lost something. Who do I contact?
Any lost property found by our Venue Manager will be kept on the premises. Please contact us at info@ukaria.com to check if we have the item.
At the Venue – Food & Drink
Is there a bar at the venue?
Yes. The bar in the Garden Terrace is open 90 minutes before each event. Enjoy a glass of wine or barista coffee before a concert or during the interval.
Please note: bar opening hours may differ for events presented at UKARIA by other organisations.
Can I purchase meals at the Cultural Centre?
Available meals are linked on the event page of the concert. All meals are separately ticketed events and pre-booking is required. More information can be found here (unless sold out).


Please note: meal options may differ for events presented at UKARIA by other organisations.
Can I take food and drink inside the concert hall?
No. Unless otherwise stated, food and drink may only be consumed in the Garden Terrace, foyer or garden.
Can I bring my own food to the venue?
To abide by SA Health regulations, consumption of food and drink that has not been purchased on our premises is not permissable.

I can't attend a concert I booked tickets for. Can I get a refund?
Your ticket is transferable and can be given to friends or family if you are unable to attend. Please refer to our ticket Terms and Conditions.
Do I qualify for concession?
Concessions are available for unemployed and pensioners (incl Commonwealth Seniors Health Card - this is not a Seniors card). Student priced tickets are listed on events, and are applicable for full-time students only.
I have a UKARIA Gift Voucher. Can I use it for events presented by other organisations?
No. Events presented by other organisations, such as Adelaide Festival have independent ticketing systems that are not managed by UKARIA.
UKARIA Gift Vouchers are redeemable for all events presented by UKARIA, and can be used as part payment.
Who can I contact if I still have questions?
You can phone our office on (08) 8227 1277 during office hours, or email info@ukaria.com.
I'm travelling from interstate. Where can I stay nearby?
What else is worth seeing nearby?