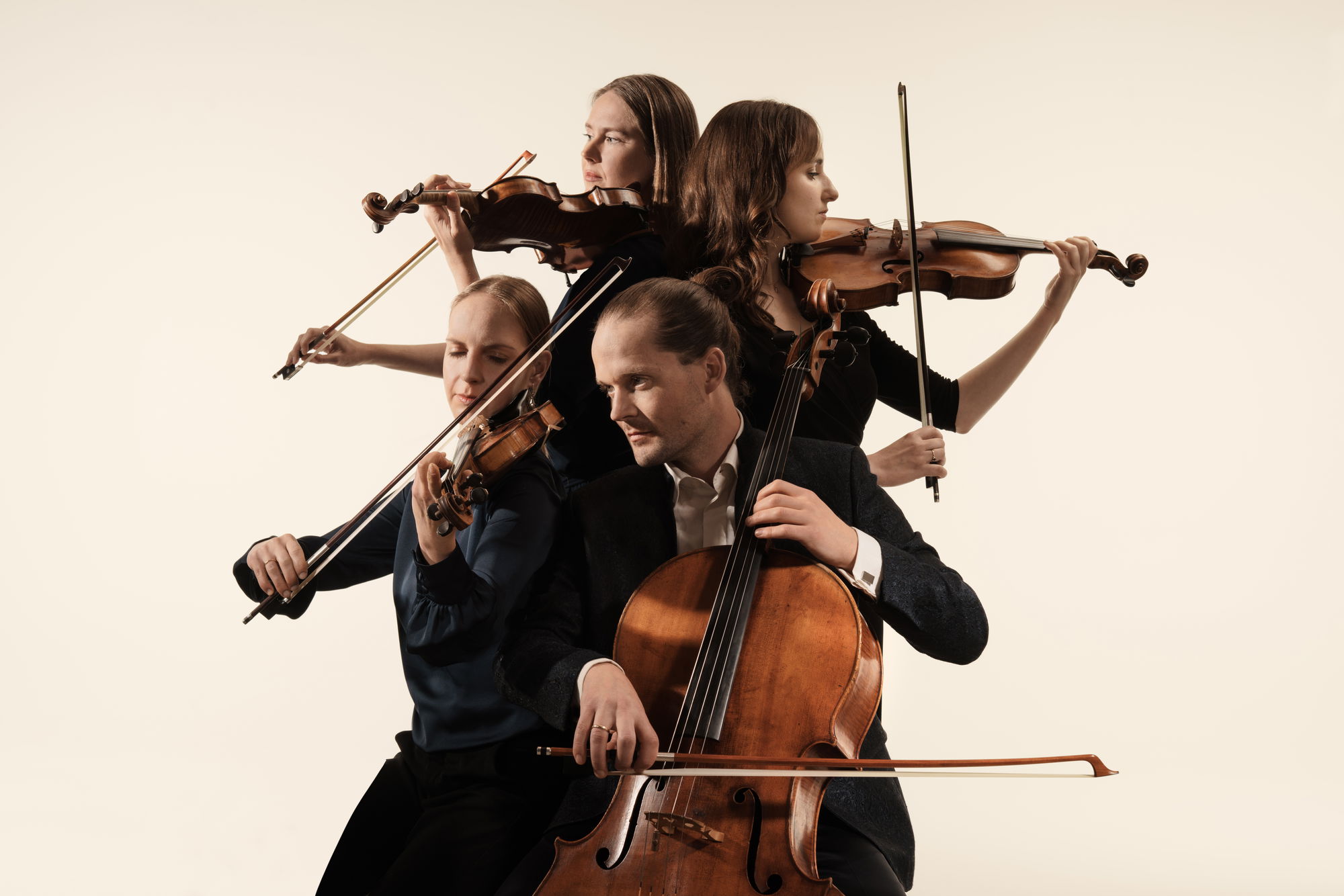 Dudok Quartet Amsterdam

Date
Sun 28 Apr 2024
2:30PM
Duration (approx)
2 hours
Interval
25 minutes
Adult $70 | Concession $65 | Student $35
Complimentary afternoon tea will be served during the interval.
Photo: Green Room Creatives – Yuri Andries
Season Overview
Tickets
'Stylish, open-minded and adventurous... '
– Guardian

The Dudok Quartet owe their existence to the Dutch architect Willem Marinus Dudok (1884–1974), who moonlighted as a composer and had a deep love of music. In 2014 the quartet was honoured with the prestigious Dutch Kesjes Prize, and since then they've picked up accolades at the Bordeaux International String Quartet Competition and the Joseph Joachim International Chamber Music Competition in Weimar.
Dudok has become a fixture on the international touring circuit, performing at Vienna's Konzerthaus, London's Wigmore Hall, Hamburg's Elbphilharmonie, and the Beethoven-Haus Bonn, along with regular appearances at their local Concertgebouw and Muziekgebouw halls in Amsterdam. The Quartet plays instruments generously on loan from the Dutch Musical Instrument Fund (NMF), often using gut strings and changing their bows according to the demands of the repertoire. They are looking forward to their debut at UKARIA: a place where the architecture ennobles the music, and the music ennobles the architecture – just as Dudok does for its namesake.


Judith von Driel
Violin | Francesco Goffriller (1725)

Marleen Webster
Violin | Vincenzo Panormo (1818)

Marie-Louise de Jong
Viola | Jean Baptiste Lefèbvre (c. 1760)

David Faber
Cello | Jean Baptiste Vuillaume (1850)

PROGRAM

Wolfgang Amadeus Mozart (1756–1791)
String Quartet No. 23 in F, K. 590 (25')

I. Allegro moderato
II. Andante
III. Menuetto: Allegro
IV. Allegro


Grażyna Bacewicz (1909–1969)
String Quartet No. 4 (22')

I. Allegro ma non troppo
II. Andante
III. Vivo


INTERVAL


Pyotr Ilyich Tchaikovsky (1840–1893)
String Quartet No. 3 in E flat minor, Op. 30 (38')

I. Andante sostenuto
II. Allegretto vivo e scherzando
III. Andante funebre e doloroso, ma con moto
IV. Finale: Allegro non troppo e risoluto
Event Tickets
Light Meals
28 Apr 2024
1PM
Serves Two: Ploughman's Lunch
Book Now
Bus Transfers
28 Apr 2024
1PM
Seats Available
Book Now