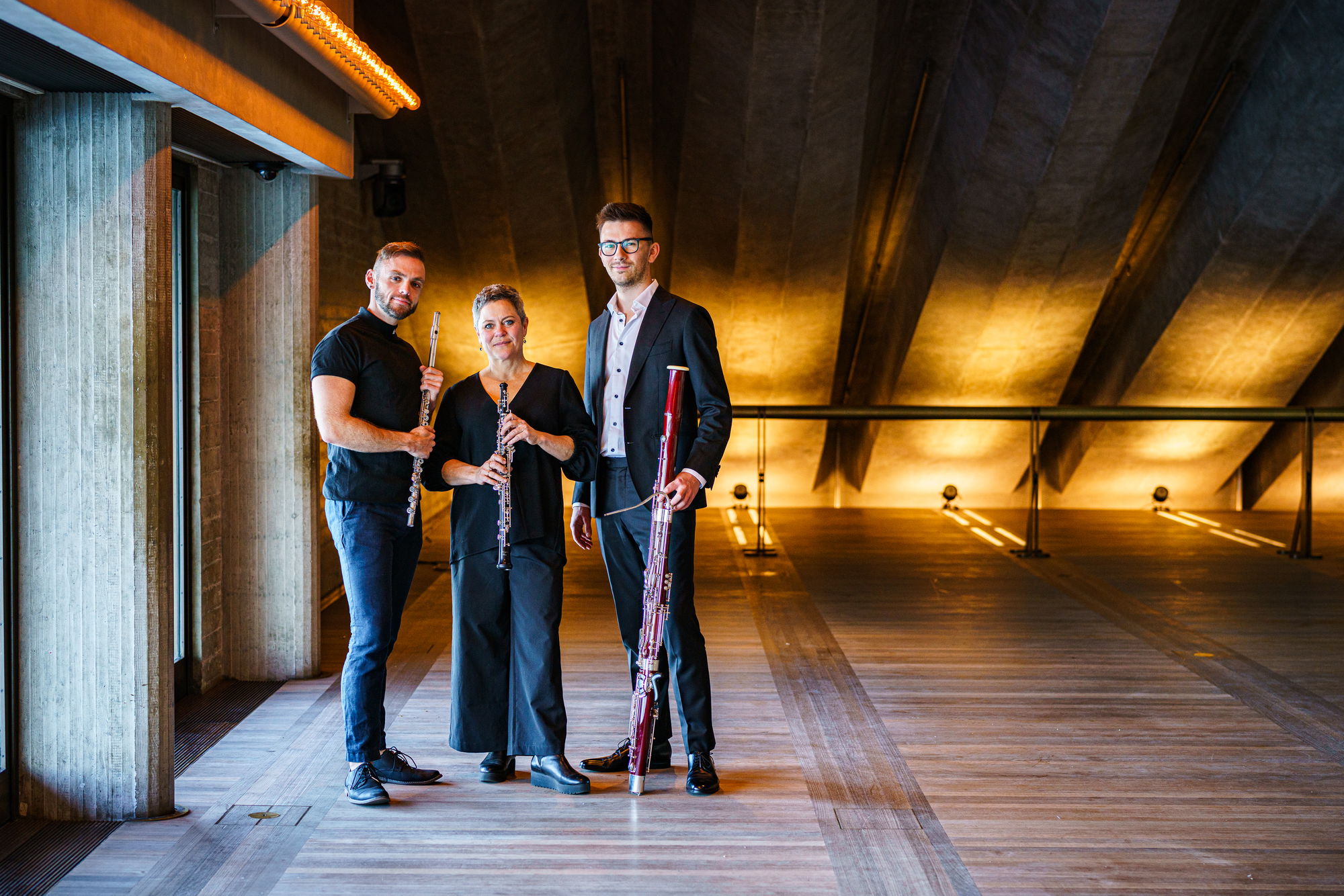 Diana Doherty, Joshua Batty, Todd Gibson-Cornish and Louisa Breen

Date
Sun 8 Oct 2023
2:30PM
Duration (approx)
Approximately two hours
Interval
25 minutes
Adult $65 | Concession $60 | Student $35

Photo: Mark Xiao
Tickets
'Gorgeous sound and incredible breath control combined with vivacity, beautiful phrasing – it doesn't get any better than this.'
– The Advertiser

Diana Doherty is one of the finest oboists in Australia. Since her prize-winning performances at the ABC Instrumental and Vocal Competition in 1985, her career has continued to flourish: postgraduate study in Zürich led to her appointment as Principal Oboe of the Lucerne Symphony Orchestra in Switzerland (1990–97), before she returned to Australia to take up the same position with the Sydney Symphony Orchestra (SSO) in 1997, a role that continues today. Many of the nation's leading composers have taken inspiration from her playing: Ross Edwards' Bird Spirit Dreaming (2002) and Nigel Westlake's Spirit of the Wild (2016) were written for and inspired by Diana's agile virtuosity. Joining Diana for her much-anticipated return to UKARIA are three colleagues with whom she shares a special rapport.

Joshua Batty joined the SSO as Principal Flute in 2019 after holding the same position with the RTÉ Concert Orchestra in Ireland. At the age of 24 he was already tutoring at the Royal Northern College of Music in Manchester, and is now an Associate of the Royal College of Music (RCM) in London. He's appeared as Guest Principal Flute with the London Symphony Orchestra and the Academy of St Martin in the Fields, amongst many others.

In 2016 Todd Gibson-Cornish was appointed Principal Bassoon of the SSO at the age of 21, following his graduation from the RCM as a Queen Elizabeth the Queen Mother Scholar. He was awarded the Tagore Gold Medal for his outstanding musical contribution to the RCM, which was presented to him by His Royal Highness the Prince of Wales.

During her postgraduate studies at the RCM, Melbourne-based pianist Louisa Breen was awarded the Chappell Gold Medal – the institution's highest award for piano. Louisa is now an Associate Faculty member at the Australian National Academy of Music (ANAM), and her busy concert schedule includes regular appearances with the SSO as an orchestral pianist.

In this recital for us, Diana, Joshua, Todd and Louisa play beguiling works by Heitor Villa-Lobos, Carl Reinecke, Henri Dutilleux, and Frank Martin, in a program bookended by music by the talented young Australian composer Harry Sdraulig, including a brand-new work specially commissioned for this performance by Andrew and Renata Kaldor.
PROGRAM
Harry Sdraulig (b. 1992)
Hat-trick for Flute, Oboe and Bassoon (7')


Heitor Villa-Lobos (1887–1959)
Duo for Oboe and Bassoon, W535 (18')

I. Allegro
II. Lento
III. Allegro vivace


Carl Reinecke (1824–1910)
Sonata Undine in E minor for Flute and Piano, Op. 167 (20')

I. Allegro
II. Intermezzo. Allegretto vivace
III. Andante tranquillo
IV. Finale. Allegro molto agitato ed appassionato, quasi Presto


INTERVAL


Henri Dutilleux (1916–2013)
Sarabande et Cortège for Bassoon and Piano (8')

I. Sarabande
II. Cortège


Frank Martin (1890–1974)
Petite Complainte for Oboe and Piano (3')


Harry Sdraulig (b. 1992)
Starlit for Flute, Oboe, Bassoon and Piano (World Premiere)* [17']

I. Clusters
II. Spirals
III. Trails
IV. Lightspeed
V. Afterglow
VI. Transit

*Commissioned by the Andrew and Renata Kaldor Family Foundation.


ABOUT THE MUSIC

Harry Sdraulig (b. 1992)
Hat-trick for Flute, Oboe and Bassoon (7')

Hat-trick was composed for Joshua Batty, Diana Doherty and Todd Gibson-Cornish for performance in the Sydney Symphony Orchestra's chamber music series. Loosely cast in a rondo form, lively and virtuosic fast sections are interspersed with more lyrical, introspective interludes.
There is a certain paucity of trios for flute, oboe and bassoon in the repertoire. To me, this statistic is rather perplexing considering the sense of balance, blend, and virtuosity of which this combination is capable. When Diana Doherty approached me to compose the trio for this pair of concerts my thoughts soon turned to the idea of an up-tempo, high-octane work, in no small part due to the extraordinary musicianship of the three performers involved, all world-class soloists in their own right.
Hat-trick, as the work eventually became known, is guided by some of the same principles that denote a typical 'hat-trick' (the scoring of three goals by a single player) in a football match. In the case of this trio, the 'player' is not an individual but in fact a collective outcome of the three players working as a taut, energised ensemble. Rapidly interweaving lines are passed from performer to performer, partnerships between pairs of instruments are temporarily formed but then transferred, whilst each instrument also has several of their own soloistic moments in the sun. Not all of the music is fast – a short, slow interlude partway through the work brings out more introspective, expressive melodic lines before a vigorous conclusion.

© Harry Sdraulig 2020. Annotation used with kind permission.


Starlit for Flute, Oboe, Bassoon and Piano (World Premiere) [17']
This piece was commissioned by the Andrew and Renata Kaldor Family Foundation at the request of oboist Diana Doherty. The title, Starlit, references the various astronomical phenomena that inspired each of the work's six movements. Although elements of space, time and speed feature prominently across the piece through its individual movement titles, the translation of structural and physical elements embodied in these astronomical concepts into harmonic and rhythmic devices is of greater importance to the work's artistic aims than any attempt to depict them in a more programmatic or expressionistic way.

The first movement, 'Clusters', begins with a wash of richly interwoven harmonies in the piano, in turn supported by meandering melodic lines from the winds which intersect and converse with great rhythmic fluidity and lyricism. The second movement, 'Spirals', tumbles forth with unrelenting energy: a veritable whirlpool of virtuosity which takes many turns through passages of flickering interplay and intense climaxes. The third, 'Trails', juxtaposes two apparently incompatible threads of chordal harmony (one for each hand of the piano) by entwining them mysteriously with one another. The fourth, 'Lightspeed', constitutes a brief, dissonant and extremely fast etude for solo piano. Conversely, the fifth movement – 'Afterglow' – omits the piano entirely and is in many ways the polar opposite of the fourth: a slow, melodious and unashamedly tonal exploration of sonorous wind writing. This movement behaves as preparation for the finale, 'Transit', which is mostly sustained by a gentle, chiming ostinato in the piano positioned beneath interlocking countermelodies in the winds.
© Harry Sdraulig 2023