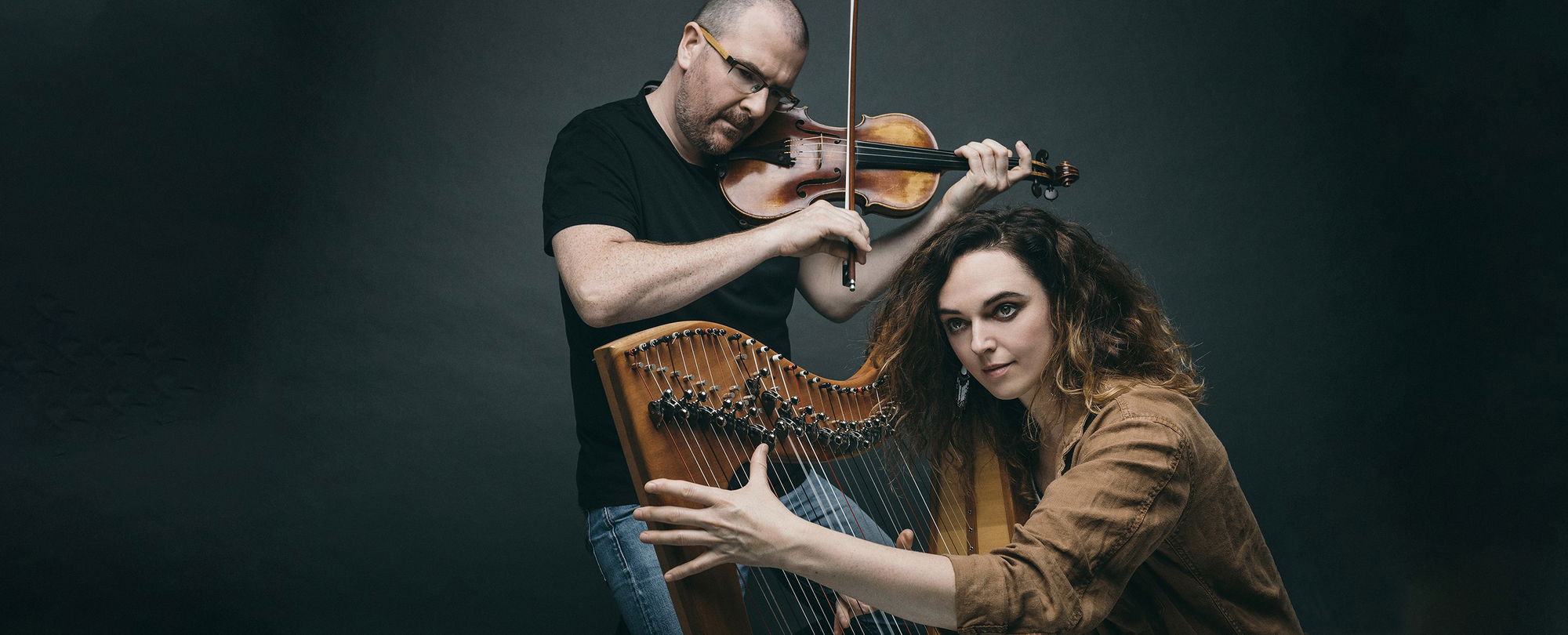 Chris Stout and Catriona McKay with James Crabb

Date
Sat 15 Apr 2023
7:30PM
Duration (approx)
2 Hours
Interval
20 Minutes
Adult $65 | Concession $60

Photo Credit: Kris Kesiak

Autumn–Winter 2023
Tickets
'Stout's tonal range and bow mastery [...] and McKay's sense of enquiry and harmonic strumming and shape-forming are as breathtaking as they are excitingly, gorgeously, emotionally satisfying.'

– The Scottish Herald

Awarded Best Duo at the BBC Folk Music Awards for their album Bare Knuckle in 2018, Chris Stout (Shetland fiddle) and Catriona McKay (Scottish harp) have performed, explored and sculpted their musical identities together for almost thirty years. Catriona was born in Dundee on the east coast of Scotland; Chris is from Fair Isle, one of the Shetland Islands. They've brought the traditional and contemporary into fruitful dialogue with folk, jazz and classical idioms, charting a rhythmic and harmonic terrain that is all their own. The result is a dynamic and intrepidly adventurous sound that transcends genre yet remains immovably tethered to place.
Alongside his career-defining performances of the music of Astor Piazzolla, transcriptions and newly written music for his chosen instrument, classical accordion virtuoso James Crabb (who was also born in Dundee) is internationally renowned for capturing the essence of 'the Scottish sound'. Traditional folk tunes such as 'Mary Scott, The Flower of Yarrow' and 'Cuckold Come Out of the Amrey' are staples in James's repertoire, often performed as encores. Leading contemporary composer Sally Beamish's concerto Seavaigers (2012) was co-created with Chris and Catriona; James's haunting arrangement of this beautiful work (with Genevieve Lacey) appears on the celebrated ABC Classic album Heard This and Thought of You.
In April 2023 Chris and Catriona perform as a duo at the Melbourne Recital Centre and the Sydney Opera House, before their three-week tour of Australia culminates with a residency at UKARIA with James. They'll craft new repertoire and arrangements together, before giving their first ever performance as a trio. What better place to witness the birth of a new sound world and watch it set sail?
Chris Stout
Shetland Fiddle

Catriona McKay
Scottish Harp

James Crabb
Classical Accordion