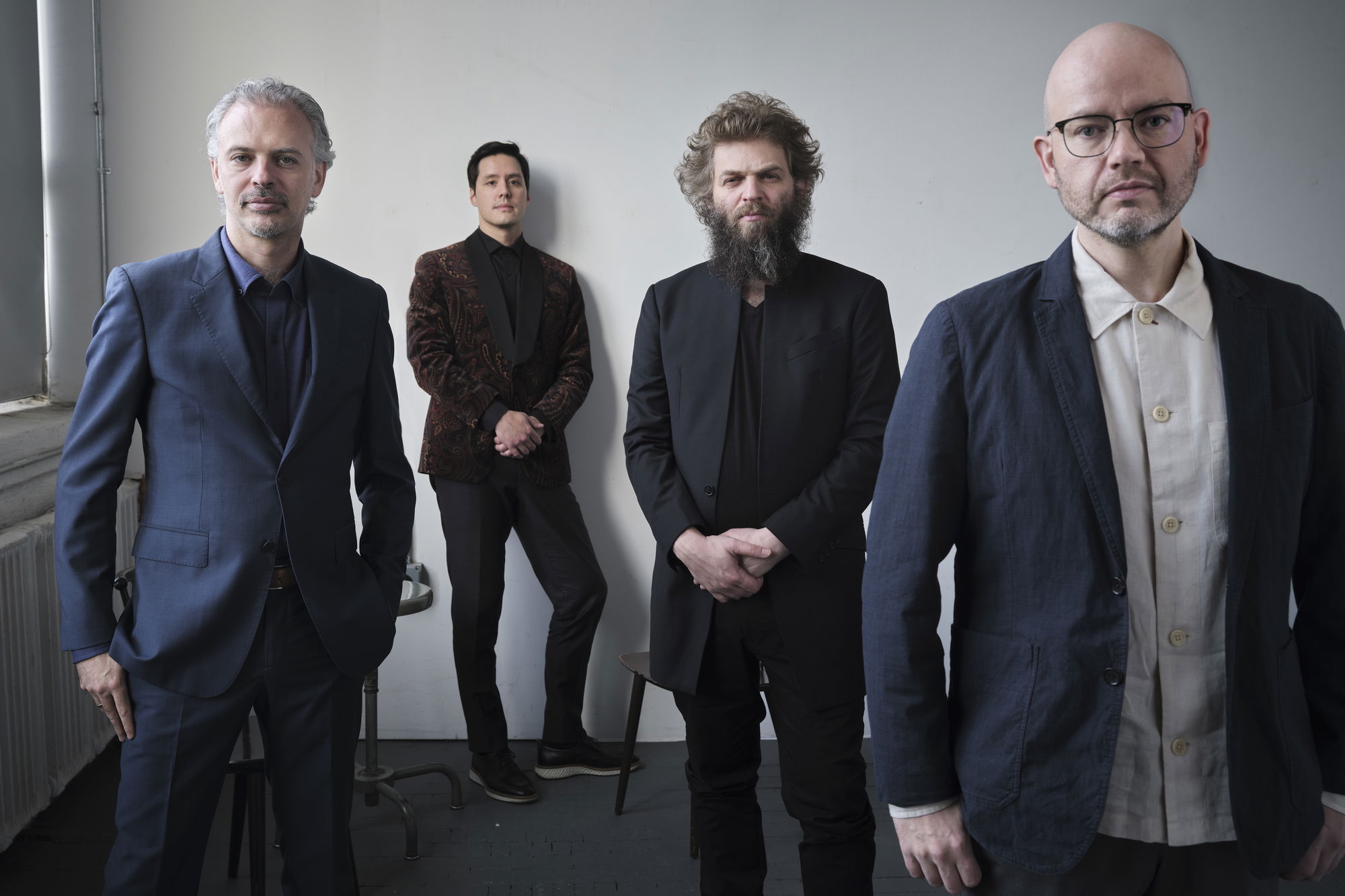 BROOKLYN RIDER

SANDBOX OF INVENTION: AN ODE TO THE STRING QUARTET

Date
Sun 25 Feb 2024
2:30PM
Duration (approx)
2 hours
Interval
25 minutes
Adult $70 | Concession $65 | Student $35
Complimentary afternoon tea will be served during the interval.
Photo: Marco Giannavola
Season Overview
Tickets
Juxtaposing familiar works with the new and lesser known, Brooklyn Rider explores a boundless sandbox of musical creativity, dialogue and play: the medium of the string quartet itself. Haydn's C major Sun quartet is one of the jewels of the Classical era, replete with pioneering inventiveness and an enduring love of the genre. The program segues from the veritable father of the string quartet to a highly anticipated new chapter of The Brooklyn Rider Almanac. In part inspired by The Blue Rider (the quartet's namesake), this celebration of the project's twentieth anniversary adds to a diverse and novel body of works penned by luminous musical creators from the jazz, folk, and indie rock worlds.
Brooklyn Rider's enduring relationship with Philip Glass (perhaps the most iconic ambassador of musical minimalism) is honoured with his Quartet Satz – a seven-minute sojourn into mesmeric bliss, described by the Kronos Quartet as 'something that encapsulates his entire vision in one work'. It serves as the perfect prelude to Dvořák's American – a perennial masterpiece that radiates warmth from the inside out, providing the most picturesque conclusion to a weekend of unmissable chamber music.


Johnny Gandelsman
Violin

Colin Jacobsen
Violin

Nicholas Cords
Viola

Michael Nicolas
Cello

PROGRAM
Joseph Haydn (1732–1809)
String Quartet in C, Op. 20 No. 2, Hob. III: 32 Sun (22')

I. Moderato
II. Adagio
III. Minuetto: Allegretto
IV. Fuga a quattro soggettii


Various
The Brooklyn Rider Almanac, Book II


INTERVAL


Philip Glass (b. 1937)
Quartet Satz (7')

Antonín Dvořák (1841–1904)
String Quartet No. 12 in F, Op. 96 American (28')

I. Allegro ma non troppo
II. Lento
III. Molto vivace
IV. Finale: vivace ma non troppo
Event Tickets
Light Meals
25 Feb 2024
1PM
Serves Two: Ploughman's Lunch
Book Now
Bus Transfers
25 Feb 2024
1PM
Seats Available
Book Now