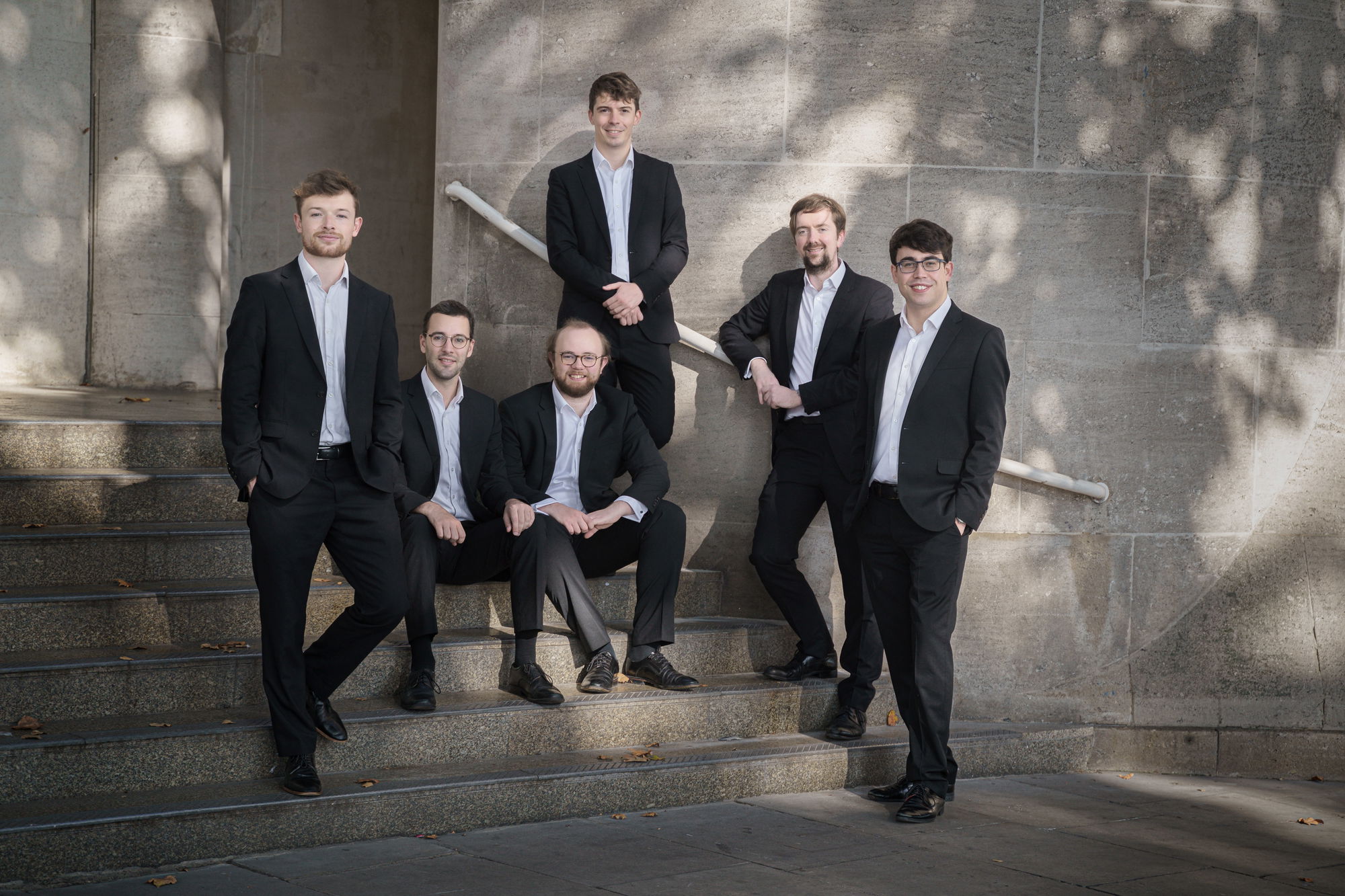 The Gesualdo Six
FADING

'Their sound seemed to float in mid-air before reaching the ears of the rapt audience… every line, every gorgeous texture was radiantly clear.'
– The Times
After forming for a single performance of Gesualdo's Tenebrae Responsories in 2014, The Gesualdo Six has gone on to become one of the world's great vocal ensembles. Their debut at Wigmore Hall in 2021, and collaborations with the Brodsky Quartet, London Mozart Players, Luxmuralis, and William Barton testify to their meteoric rise and artistic maturity.
They return to UKARIA with a program inspired by the night prayer service of Compline, which since the fourth century has ushered in the darkness of night. Renaissance polyphony by Byrd, Gesualdo and Tallis – containing startling harmonic shifts and expressive word painting – is juxtaposed with contemporary reflections by Veljo Tormis, Alison Willis and Richard Rodney Bennett.
Evoking the contemplative atmosphere of Compline while the sun sets on the Mount Barker Summit, this concert returns us to the infinite and ancient shades of night's approach.
Owain Park
Director and Bass
Guy James
Countertenor
Joseph Wicks
Tenor
Joshua Cooter
Tenor
Michael Craddock
Baritone
Samuel Mitchell
Bass
Photo:
The Gesualdo Six: Ash Mills


PROGRAM
Thomas Tallis (1505–1585)
Te lucis ante terminum
Wiliam Byrd (1543–1623)
Ave verum corpus
Afflicti pro peccatis nostris
Jonathan Seers (1954–)
Look down, O Lord
Donna McKevitt (1970–)
Lumen (Nunc Dimittis)
Veljo Tormis (1930–2017)
Marjal aega magada
Alison Willis (1971–)
The Wind's Warning
Franz Schubert (1797–1828)
Die Nacht
Max Reger (1873–1916)
Nachtlied
Josef Rheinberger (1839–1901)
Abendlied
Luca Marenzio (1553–1599
Potrò viver io più se senza luce
Jacques Arcadelt (1507–1568)
Il bianco e dolce cigno
Carlo Gesualdo (1566–1613)
Moro, lasso
Pierre de la Rue (1450–1518)
Absalon fili mi
Thomas Tallis (1505–1585)
In manus tuas
Thomas Tomkins (1572–1656)
When David heard
James O'Donnell (1961–)
Present Yourselves
Richard Rodney Bennett (1936–2012)
A Good-Night
Event Tickets
Meals
25 Mar 2023
8PM
Post-Concert Dinner
Book Now
Bus Transfers
25 Mar 2023
4:30PM
Seats Available
Book Now