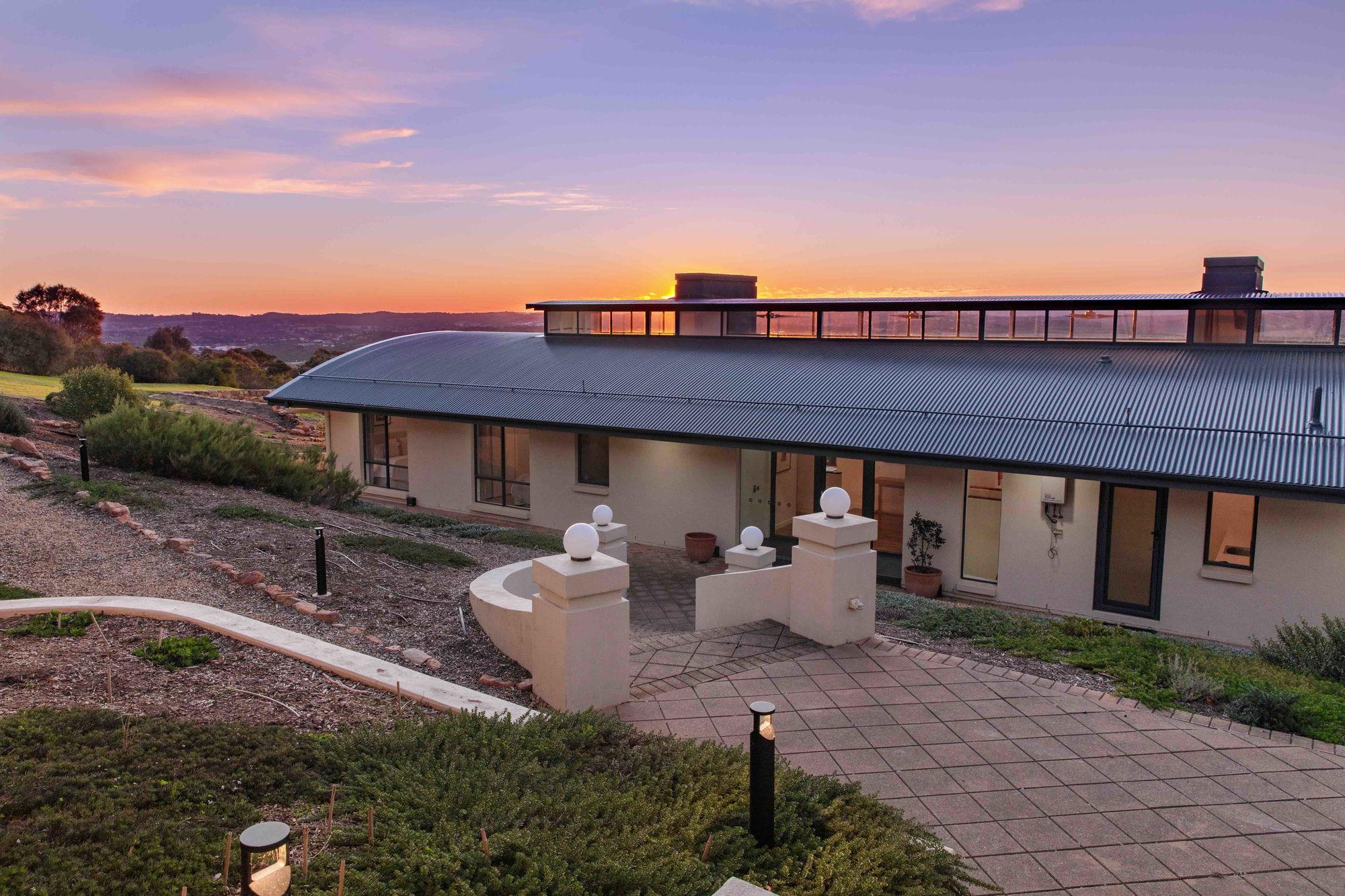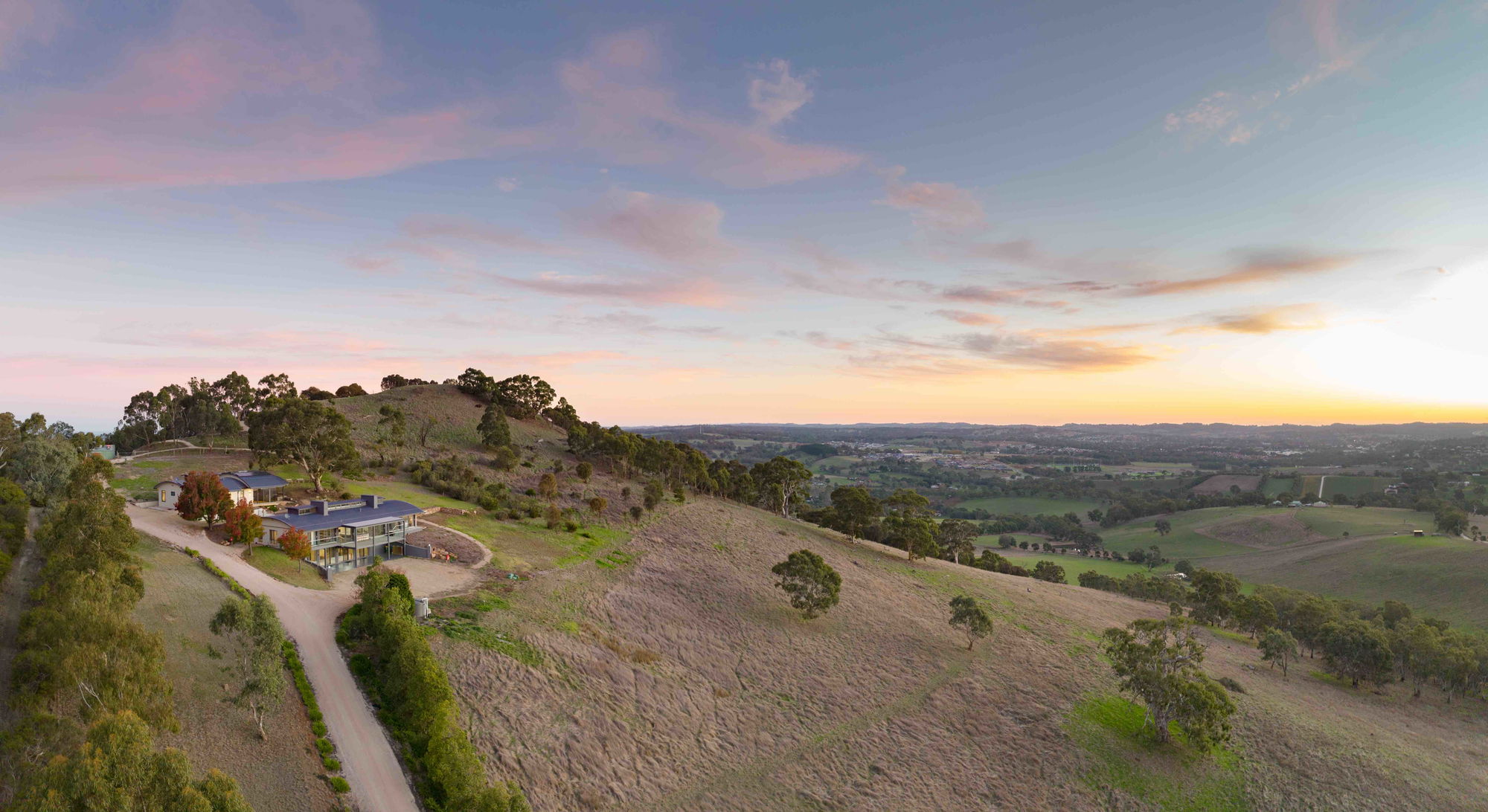 ACCOMMODATION - TWIN PEAKS HOUSE & COTTAGE
'I go out there on the veranda just looking at this country – it's beautiful. Being here has been so idyllic.' Archie Roach AM

'It's got a very calming energy about it. We know the world's going on out there, but everything feels a bit easier to deal with. It's like the land is helping us to do what we're doing. It's talking to us. And really – that view, it's kind of extraordinary, it really is. That's Australia – they are the colours of the Australian summer, in all its glory, I would say. That's as good as it gets.' Paul Grabowsky AO

A five minute drive from UKARIA Cultural Centre up the dusty escarpment of Williams Road takes you to a place of quiet contemplation, offering clear unobstructed views that stretch as far and as wide as the eye can see. Twin Peaks – a newly refurbished house and cottage – sits aloft the Mt Barker Summit, a place where the gatherings, rituals and songs of the Peramangk people have been heard for many centuries. Nothing disturbs the tranquility; one gets the impression it has been like this for thousands of years.
In a moment of perfect serendipity, the property came up for sale in 2015, shortly before construction of the UKARIA Cultural Centre was completed. It was purchased by Ulrike Klein AO and subsequently gifted to UKARIA in 2019

The facility is used for artist accommodation and artistic residencies however is available for hire. Please contact us to discuss availability and your requirements events@ukaria.com.au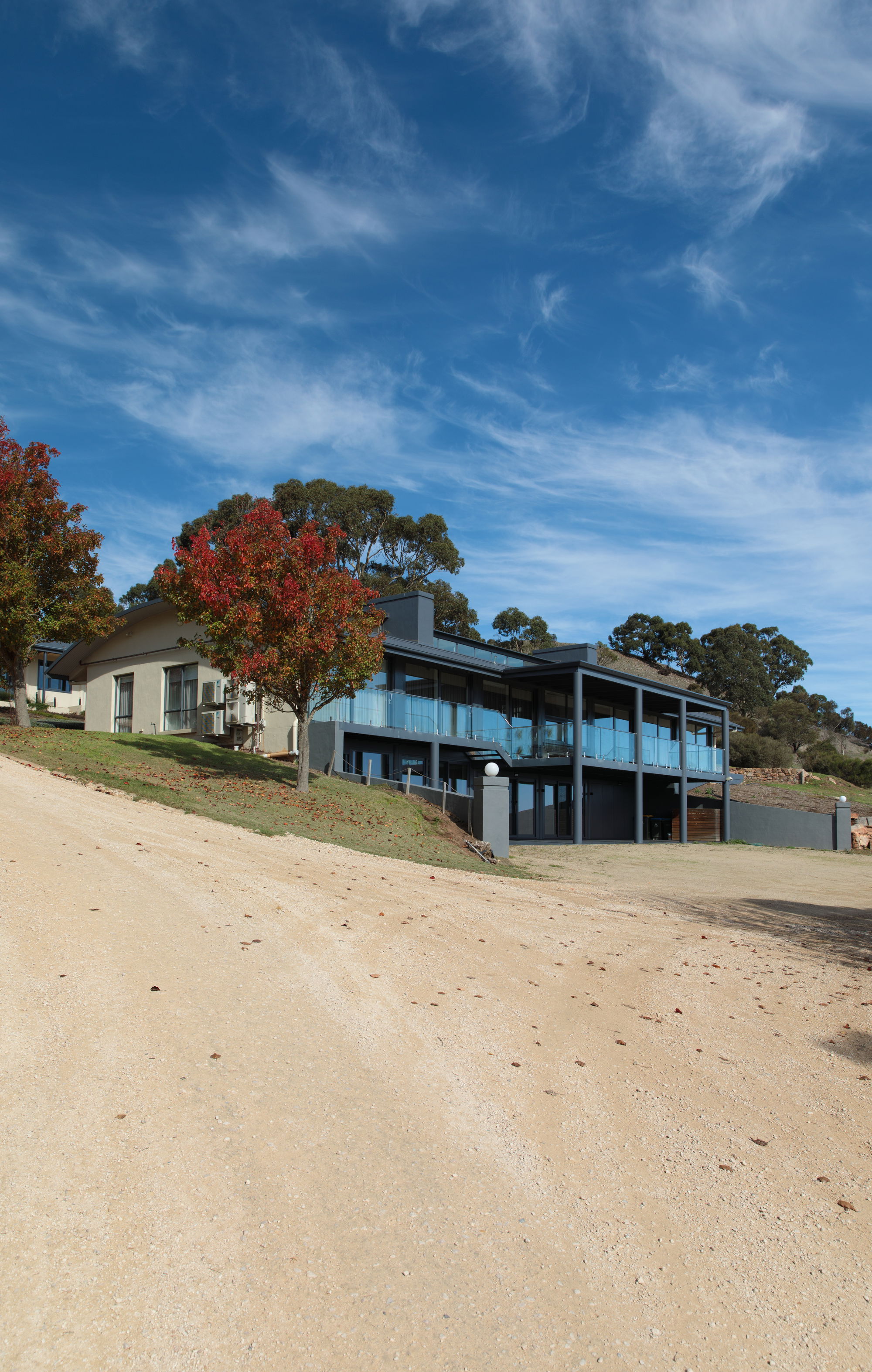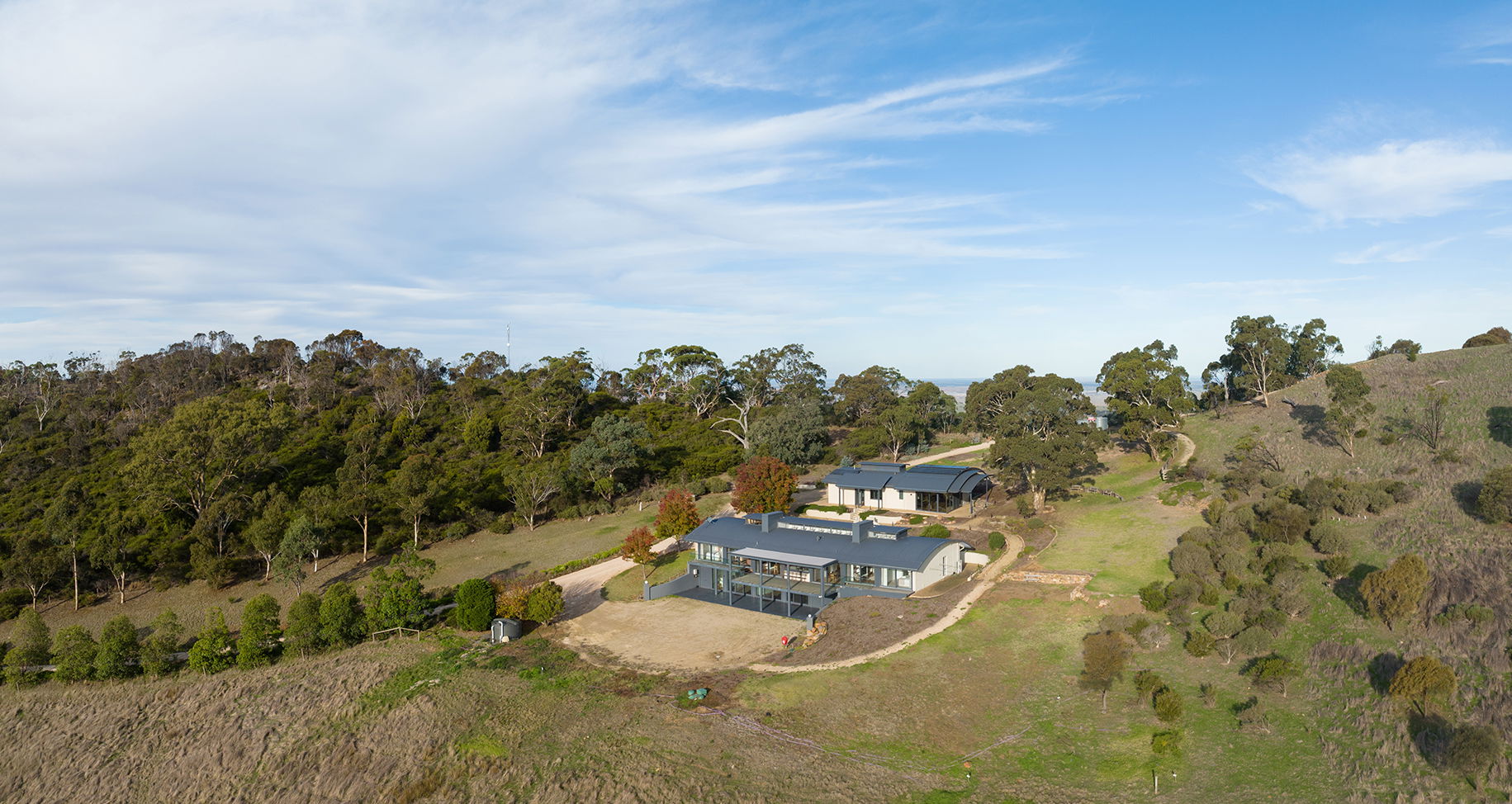 THE MAIN HOUSE
The Main House contains six bedrooms and three bathrooms, along with a spacious kitchen and dining area and two separate lounge rooms.
On the lower level is a retreat space for yoga and meditation and a self-contained suite that includes a bedroom, bathroom and kitchenette. Floor-to-ceiling windows throughout offer a breathtaking panorama of the Adelaide Hills.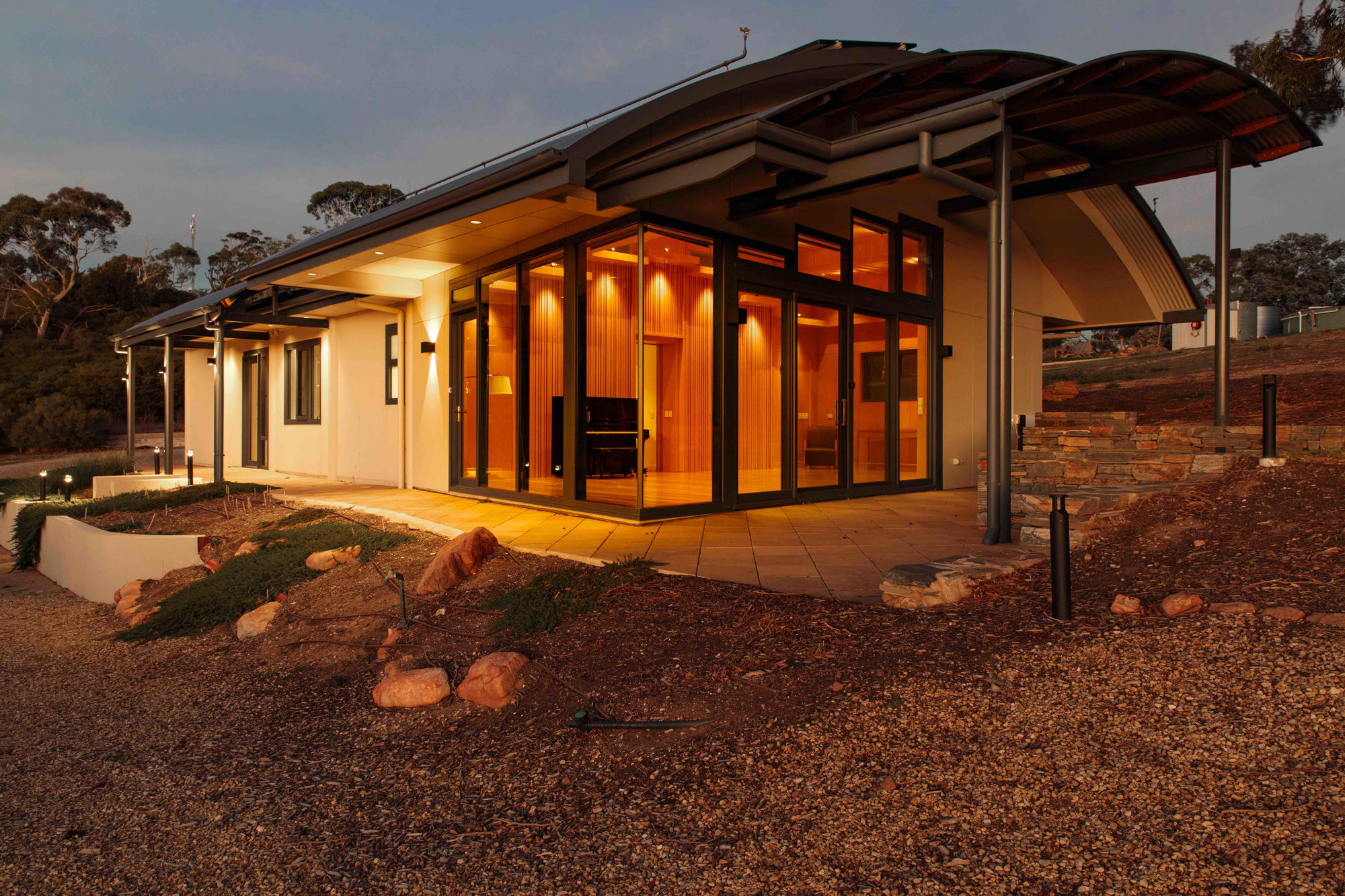 THE COTTAGE
The four-bedroom, two-bathroom cottage was extended in 2020 to include a state-of-the-art rehearsal studio. Designed by the architect responsible for UKARIA, Anton Johnson worked hand in hand with Cameron Hough (the acoustician from ARUP who also worked on UKARIA) to craft a magnificent addition to our facilities.

The design matches the aesthetic used in the auditorium of UKARIA Cultural Centre, and utilises many of the same materials: the hoop-pine ceiling rises and falls in a series of steps to scatter and diffuse the sound, and the walls are lined with battens of Jelutong, each at varying depths to simulate the sound of a much larger acoustic.

The new rehearsal space means concerts and residencies can occur simultaneously: musicians can rehearse here while others perform in the main concert hall, accommodating up to three different groups of artists – all in self-contained areas – at the same time.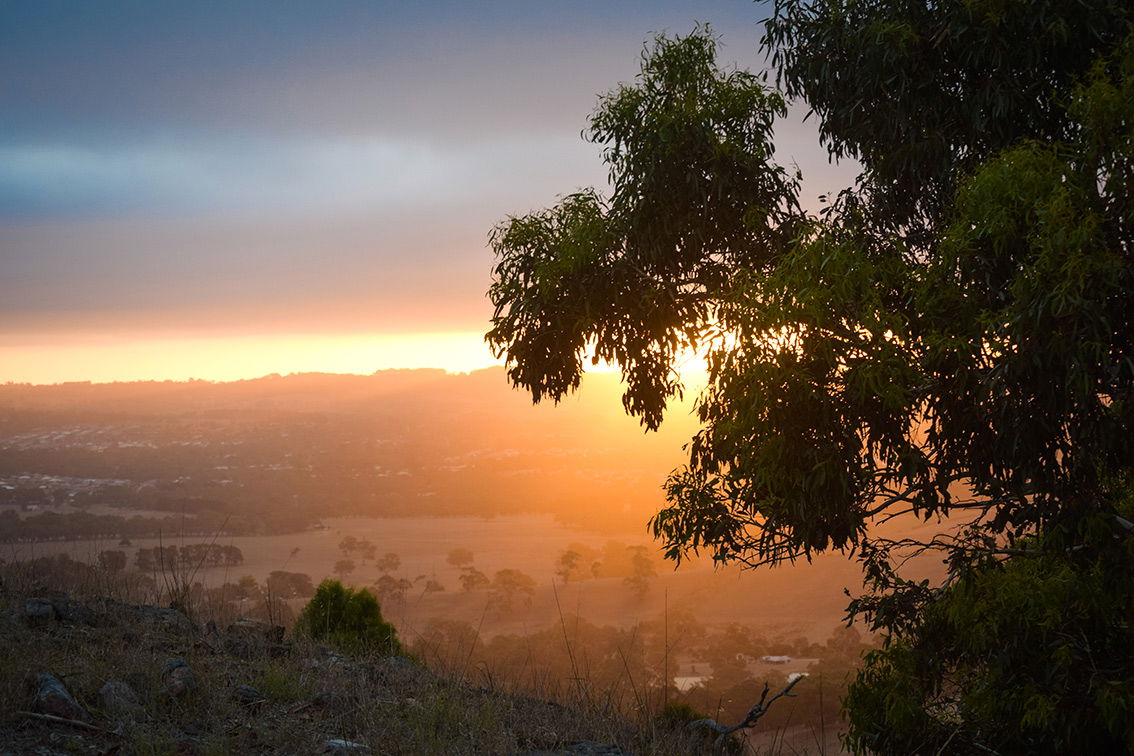 PETER FREUND COLLECTION
In 2018, UKARIA was gifted 47 abstract European prints from the personal collection of Peter Freund; these were framed and hung on the walls of the Twin Peaks House and Cottage.
Peter Freund is a close friend of Ulrike Klein and Gustav Meincke. Prior to the pandemic, they would visit him each year at his nursing home in Southern Germany. A passionate collector of abstract art, Peter donated around 150 original prints to the Museum of Stellenbosch in South Africa, where he lived for many years. Now over 90, he decided to donate his remaining 47 prints to UKARIA, to make them accessible to our artists and audiences.