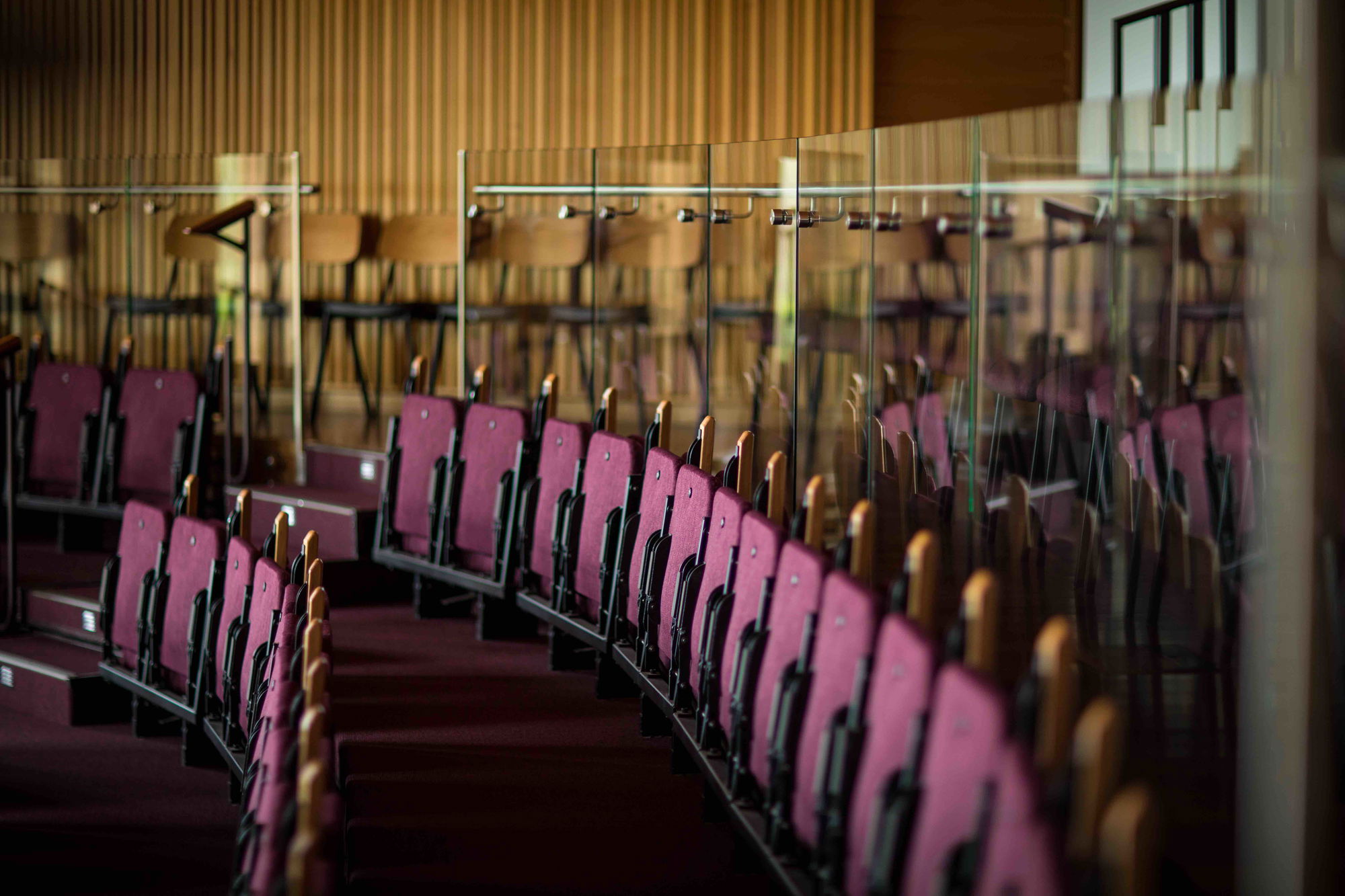 Seating
Custom-built by leading South Australian-based engineering company Acromat, the retractable seating is what makes UKARIA so readily adaptable to a variety of different functions. A total of 220 people can be seated in the theatre-style setup, which can be completely retracted to accommodate a bespoke board meeting setting, with long tables assembled on a flat floor for celebrations, corporate lunches or networking events. This flexibility also permits an even greater intimacy for jazz concerts, where the audience can sit behind round tables in cabaret style enjoying meals and refreshments as they listen.
'This was the first time Acromat had ever manufactured curved retractable seating, and it was very complicated,' Anton explains. 'It was made here in Adelaide: Craig Otto [Managing Director, Acromat] is a genius when it comes to engineering! I was immensely pleased with the final result. A lot of people don't even realise the seats are retractable, and it's impressive when you see the difference between the seating in place and the flat floor.'

Clad in beautiful aubergine-toned upholstery, the material was specifically chosen to provide an optimal balance between the relationship between the rehearsal sound (without an audience) and the performance sound (at full capacity).

The Glass Balustrade
The idea for a glass balustrade separating the upper and lower galleries originated as a practical safety requirement.
'When Cameron started doing his analysis it appeared that it didn't affect the acoustics,' Anton says. 'We could have used a metal balustrade and the sound would have gone straight through, but it would have had a stronger feel of division in the space. So once he had done all his testing he gave it the green light, which I was very pleased to hear, because it was definitely my preferred design.'
The most beautiful advantage of the glass balustrade was discovered only after the concert hall was built: at different times of the day, it acts as a kind of CinemaScope reflection of the landscape, allowing the musicians to see (and feel) the presence of the natural world as they perform.
'I had not anticipated that panorama!' Anton says. 'When those things happen, I believe they don't just happen randomly – they happen because of the intensity of care put into the design, especially the geometry, and the relationship between the audience and the ensemble. The reflection of the landscape for the musicians was a lovely coincidence!'