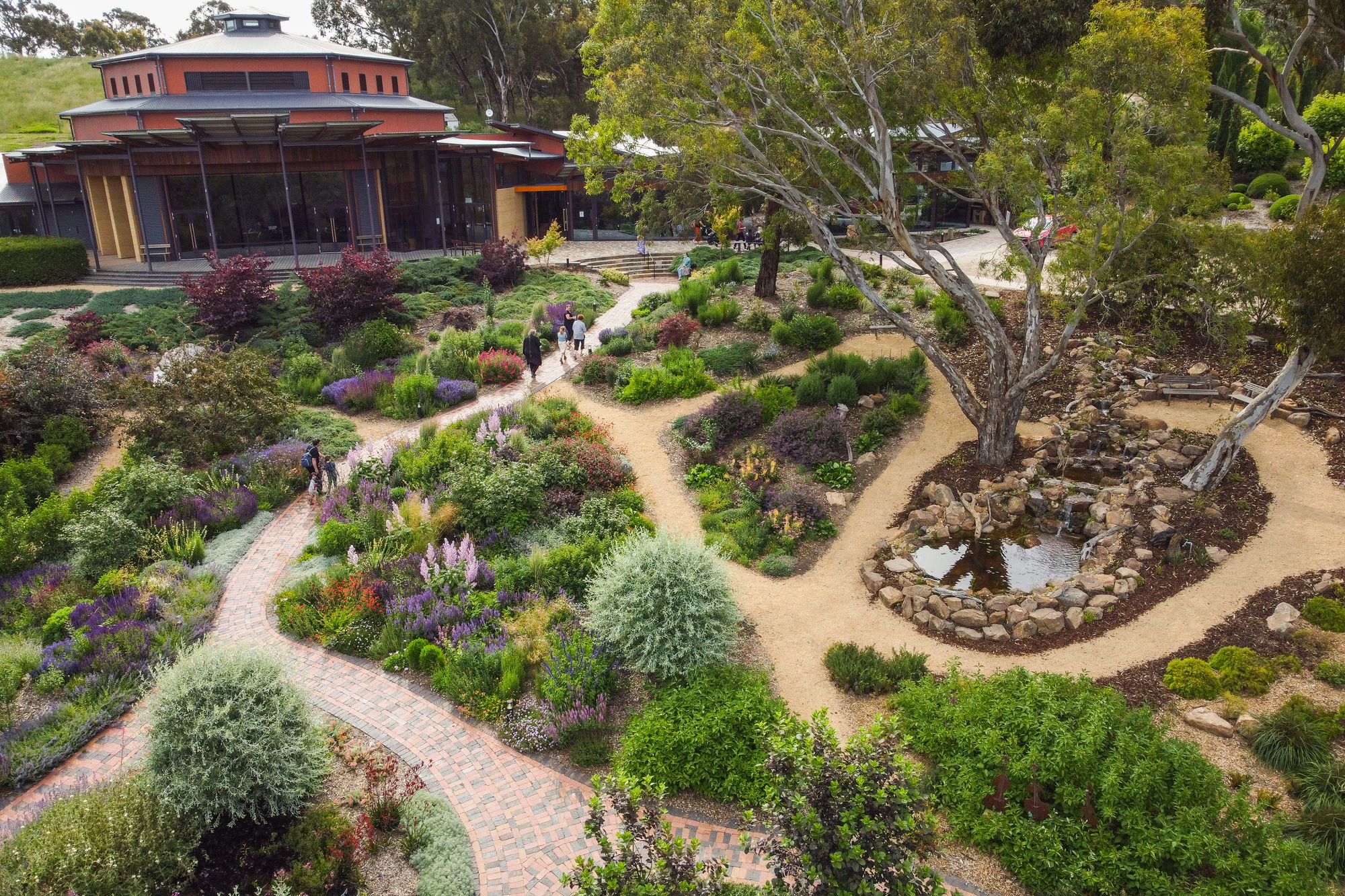 In the Garden - Hillside Garden
The Hillside Garden is one of the most beautiful areas for quiet contemplation. Small benches offer an invitation to dream under the eucalypts and soak up the serenity, while low woody shrubs, such as Correa, Leptospermum, Prostanthera and Ixodia complement and background the neighbouring Crescendo Garden, and allow a view out to the south.
At the heart of the Hillside Garden is a water feature, surrounded by lush Acacia cognata 'Limelight' foliage and pink-rimmed echeveria succulents, evoking a 'creek edge' appearance. As night falls, the meditative trickling of water plays counterpoint to a chorus of Southern Marsh and Eastern Banjo frogs.
In early November 2022, the water feature that had been installed years prior was removed and within two weeks, a new stream, waterfalls and ecosystem pond installed by the team at SA Waterscapes. Rock from the original project was utilized, as well as local rock sourced from Mount Barker, amounting to 40 tonnes in total.
The aquascape system was used for this feature because of its efficiency, low maintenance, and the beauty it will provide all year round. A skimmer box controls mechanical filtration by pulling debris that lands onto the surface of the water into an easily removable basket.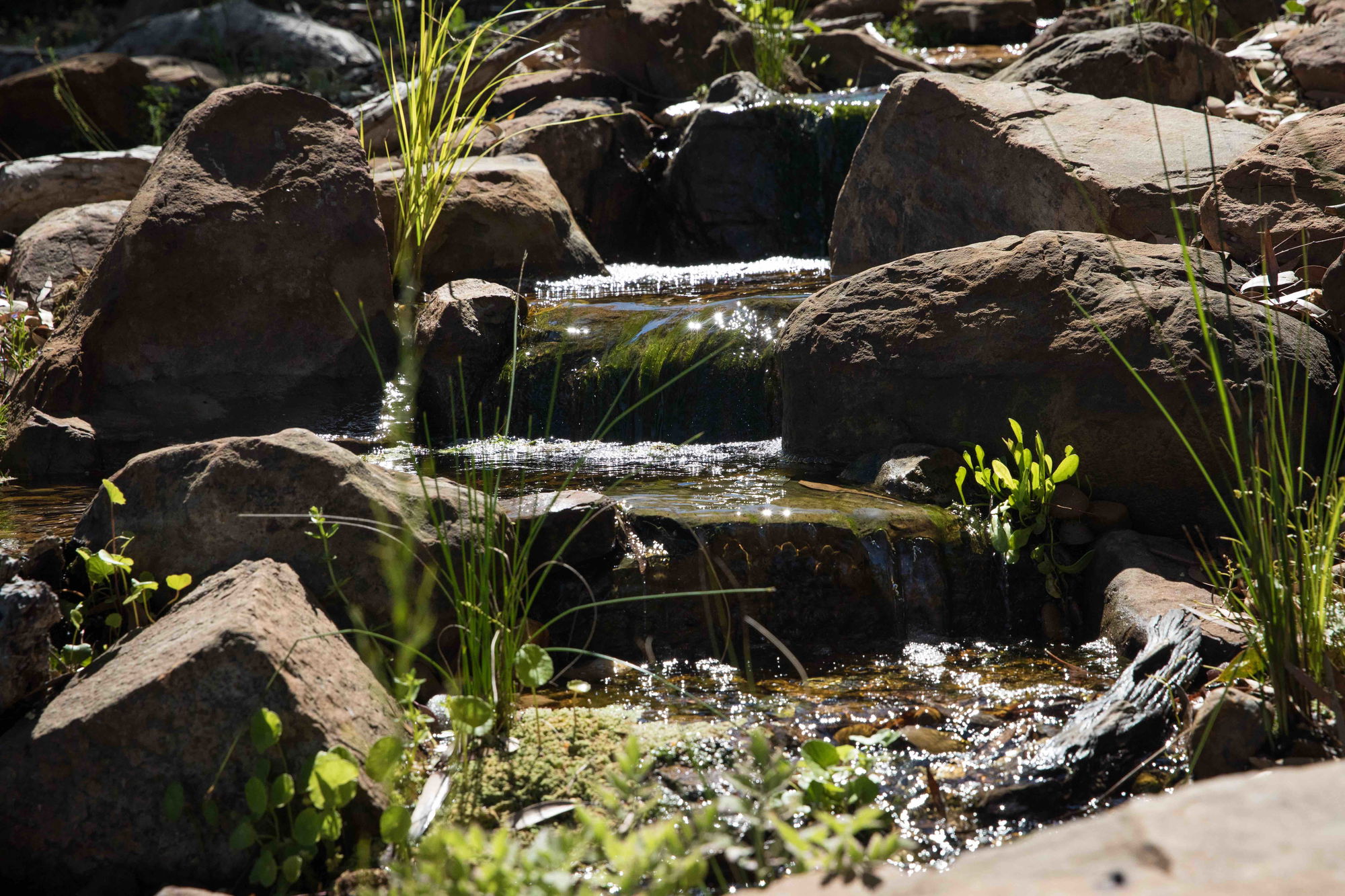 The biofalls, located at the top of the stream, house a fine filter medium, which helps boost beneficial bacteria. This is called biological filtration: bacteria found within the biofalls and covering every wet surface of the feature acts to filter the water. Harmful levels of natural nitrates, nitrogen and ammonia are all reduced or eliminated by the beneficial bacteria. An auto-dosing system was added to keep this healthy balance in check.
Native plants sourced from Belair Native Flora and Coromandel Valley Nursery were utilized, providing beauty and habitat to creatures big and small. Adam Hancock's surrounding planting scheme also includes native plants, blending the lines between the aquatic and the terrestrial.
This feature aims to pull visitors into the garden with the sounds of gently flowing water, to provide an environment to contemplate nature and the ecosystem. It serves as a place to unwind and absorb all the gardens have to offer.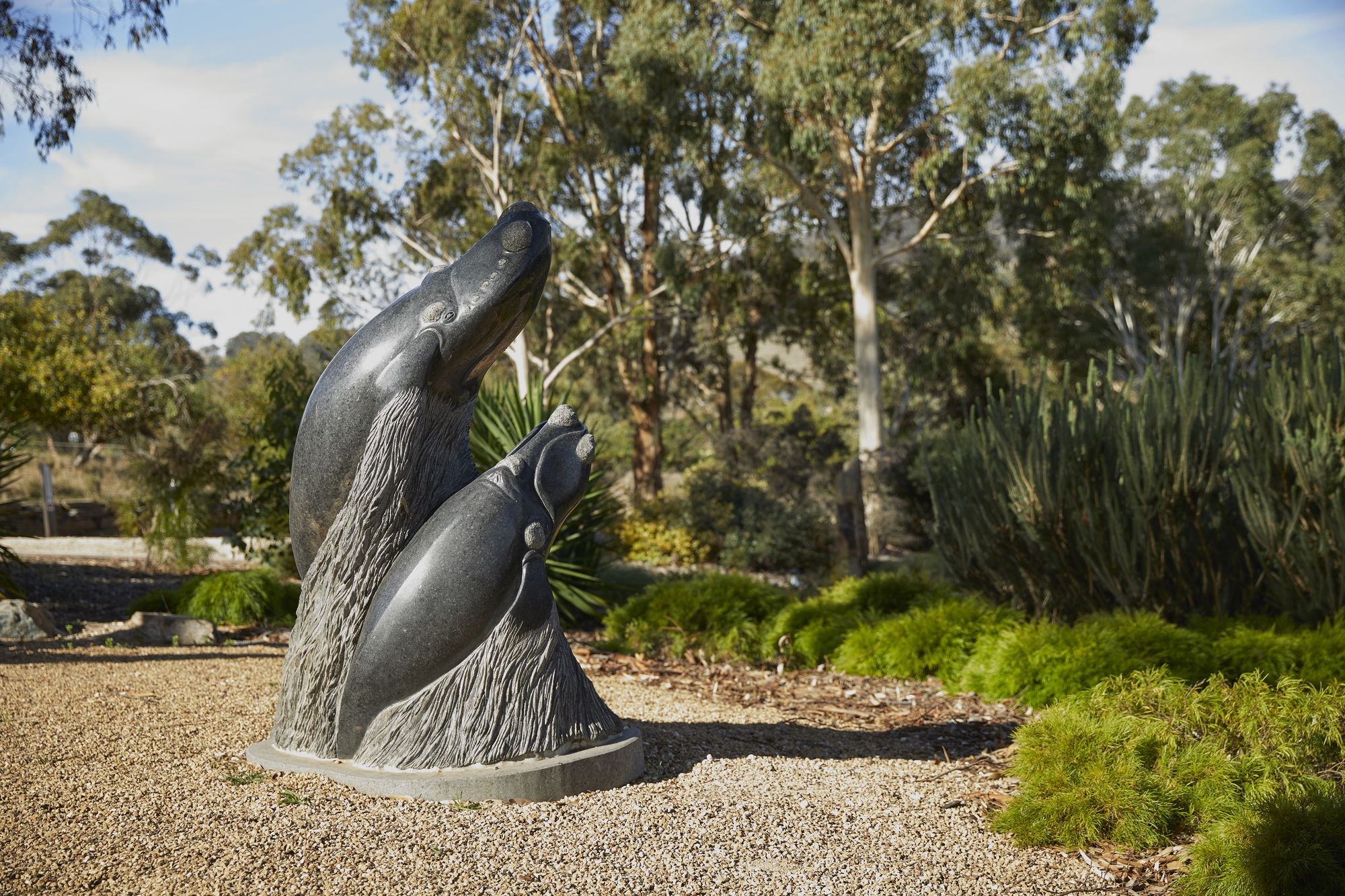 Adjacent to the pond is another beautiful black granite sculpture: Silvio Apponyi's Whales. Based in Balhannah in the Adelaide Hills, the German-Australian sculptor's primary inspiration is Australian fauna: frogs, rabbits, kangaroos and eagles feature prominently among his oeuvre. When Ulrike saw Apponyi's Whales for the first time, she felt an instant attraction to it.
'I'm usually much more of an abstract person,' she admits, 'but it's just absolutely beautiful. There is this story – I have no idea if it is genuine or not – about the Mount Barker Summit in ancient times. There was a flood, and a whale sacrificed itself so that people could survive by riding on its back. Someone told this story to me. Is it truly an authentic Aboriginal story? I wouldn't know. But whales are the most amazing, mystical creatures. They're musical too: looking at the sculpture, you can almost hear their song. It could almost be a whale in the landscape.'