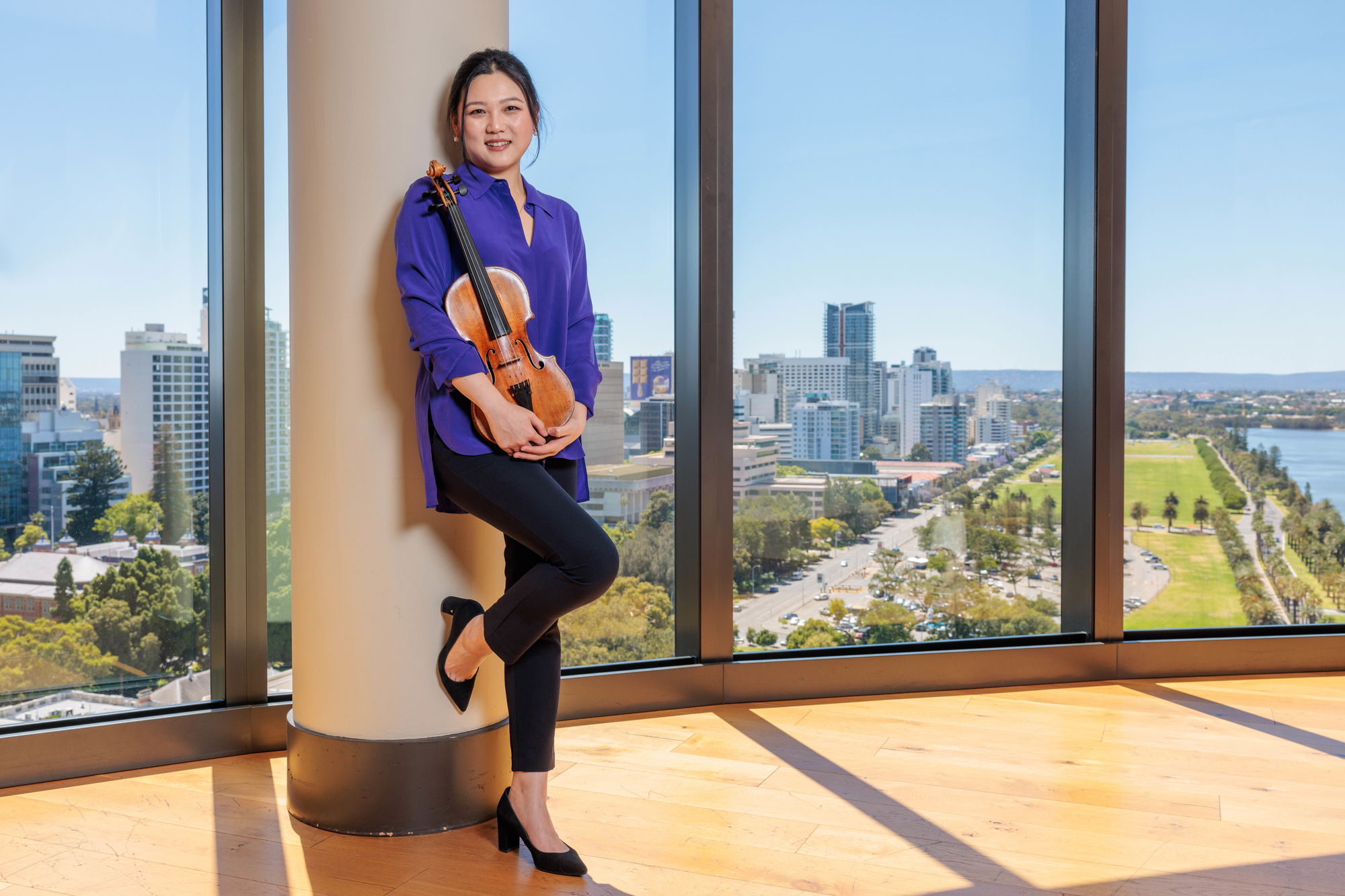 About the Violin
Giovanni Battista Guadagnini (1711–1786)
1753–7 Violin, Milan 'The Adelaide'

Carmel Hakendorf was a virtuoso violinist who, in the early 1950s, was invited by Sir John Barbirolli to give her debut in London. Unfortunately the excitement of the invitation was overshadowed by the poor quality of her violin. Determined to ensure that this young artist had an instrument worthy of her considerable talent, the Music Committee of South Australia launched a public subscription, which with the help of several performances by Carmel, raised 1,750 pounds. With this considerable sum they purchased a magnificent violin crafted by Giovanni Battista Guadagnini in Milan in 1753–7.

In August 1955 the South Australian Guadagnini Violin Trust was established to preserve the violin for future generations. Miss Hakendorf held the violin for many years and was a member of the Adelaide Symphony Orchestra. Following her retirement, the violin was lent to a number of well-known violinists including William Hennessy, Jane Peters, Sophie Rowell and, most recently, Paul Wright.

Now 60 years later, the violin is valued at US$1M. No additional funds were raised to cover its ongoing maintenance and insurance and the instrument was at risk of falling into disrepair. UKARIA agreed to become custodians and the Supreme Court of South Australia appointed it trustee in 2013.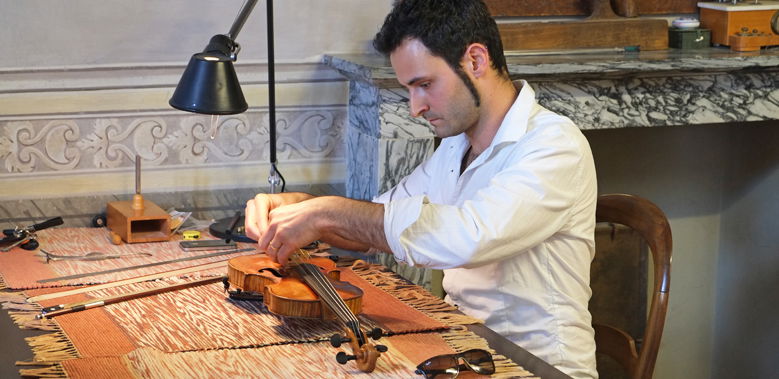 Restoration
In 2015 the violin returned to Cremona, Italy for restoration at the workshop of Eric Blot, an international expert in fine Italian instruments. Based in the city made famous by Stradivari, Eric and his team see many of the world's greatest instruments. After much discussion, restorer Barthélemy Garnier set to work and completely changed the set up (every item that is not original and needs to be replaced from time to time). The results were astounding and the violin has a much richer voice with more power particularly in the middle and lower registers. It was also pains-takingly cleaned so it now looks museum quality.
The Board was so delighted with the transformation that it decided the violin needed a new name to reflect its true character and beauty. At the suggestion of Kerry Heysen-Hicks, who made a contribution to the public subscription when she was in grade two, the instrument will now be known as 'The Adelaide'.
About the Luthier
Guadagnini is often referred to as the last of the great master luthiers of the 'golden age' of string instruments, in company with Antonio Stradivari and Guarneri del Gesù. Over the course of his seventy-five-year life, Guadagnini made around 403 violins, twenty-one violas, thirty-nine cellos, and three double basses. His nomadic existence, moving as he did from town to town (Piacenza, Milan, Parma, and finally Turin) enabled Guadagnini to produce instruments that were inimitable expressions of the environment in which they were made. Today, Guadagnini's instruments are among the most coveted in the world, as much for their sound as the cultural potency they now possess.
Maker: Giovanni Battista Guadagnini (1711–1786)

Origin: Milan, Italy

Made: 1753–7

Current Player: Natsuko Yoshimoto (Concertmaster, Queensland Symphony Orchestra)

Sound Notes: Rich and powerful in middle and lower registers

Owner: South Australian Guadagnini Violin Trust

Custodians: UKARIA

Date Acquired: 1955

Date Loaned to Yoshimoto: 2019
Current Recipient: Emily Sun
'Possessed of a superb talent' (The Australian), with 'a searing and poetic tone' (The Guardian), violinist Emily Sun's powerful sound and compelling, captivating interpretations have won her international renown. Awards and prizes have included the Tagore Gold Medal from the Royal College of Music, the 2018 ABC Young Performers Award (Australia), the 2016 Royal Overseas League Music Competition (UK), and the Brahms (Austria), Yampolsky (Russia) and Lipizer (Italy) International Violin Competitions. She was a Young Concert Artist for the Tillett Trust, The Worshipful Company of Musicians and City Music Foundation.
Adelaide Symphony Orchestra Artist-in-Association in 2023 – including for the critically acclaimed world premiere of Elena Kats-Chernin's Violin Concerto, Fantasie im Wintergarten, commissioned for Emily and described as 'engrossing' and 'magical' (Limelight) – the 2024 season sees Emily continue in this role, performing the Barber and Bruch violin concerto with the ASO in two separate programs conducted by Andrew Litton, and Shiyeon Sung. Emily also makes her soloist debut with the Tasmanian Symphony Orchestra, performing the Korngold concerto, conducted by Johannes Fritzsch. Next year also features classical performances at UKARIA Cultural Centre with pianist Joseph Havlat, and Hayllar's Music and Mountains Festival in New Zealand, masterclasses, and the highly anticipated release of Emily's second album for ABC Classic in late 2024.
Season highlights in 2022/2023 have included the Bruch, Tchaikovsky and Beethoven concertos with the Sydney, Melbourne and West Australian Symphony Orchestras with conductors Vasily Petrenko, Mark Wigglesworth, Jaime Marti´n, Asher Fisch, Tan Dun and Benjamin Northey, and with the London Mozart Players conducted by Howard Griffiths. Chamber music engagements in Australia include for the Australian Festival of Chamber Music (Townsville), Musica Viva Tasmania, Bendigo Chamber Music Festival (VIC) and at Adelaide's Elder Hall with pianist Andrea Lam featuring the Australian premiere of Fazil Say's Kaz Dag?lari. Emily has also featured in recital for Sydney Festival, national touring for Musica Viva Australia, and as soloist with the EU Chamber Orchestra, Orchestre de Royal Wallonie, Orchestre de Chambre Namur; the Arlington and Arizona Symphony Orchestras in USA, and the Shanghai Symphony and Qingdao Symphony Orchestras (China).
Emily has been ABC Artist-in-Residence, and BBC Introducing Artist, with regular broadcasts on Classic FM, BBC Radio 3 (UK), Kol Hamusica (Israel), WXQR (USA), and Musiq 3 (Belgium), and featured in the acclaimed Australian documentary Mrs Carey's Concert. Significant solo debuts include Sydney Opera House, Wigmore Hall, Royal Albert Hall, Bridgewater Hall, Tchaikovsky Great Hall Moscow, and Seoul Arts Centre. Emily was invited to perform at Buckingham Palace alongside Maxim Vengerov in Bach's Double Violin Concerto at the Royal Gala in the presence of HRH Prince of Wales, and at the Royal Palace of Brussels in the presence of the King and Queen of Belgium. Chamber collaborators have included Maxim Vengerov, Gary Hoffman, Danny Driver, Umberto Clerici and Andrea Lam.
Her acclaimed debut album, Nocturnes (ABC Classic) with pianist Andrea Lam, was described in The Sydney Morning Herald as 'a winner on every count', reaching No. 1 on the classical charts and nominated for 'Best Classical Album' in the 2021 ARIA Awards. Sun's notable recording as part of Ensemble E´migre´ of Robert Kahn's Music from the Tree of Life (Rubicon Classics) earned five stars from BBC Music Magazine.
Emily is a Violin Professor at the Royal College of Music, London and has been a jury member of several international violin competitions. She is currently the proud custodian of 'The Adelaide' Guadagnini violin (1753–57), held in trust by UKARIA.
"This Guadagnini has a "golden" sound. I feel very privileged to play on this beautiful instrument, during this fleeting period of its already long life and history. The tone is very warm, dark and rich; very even and homogenous across the registers. It is my responsibility to understand "The Adelaide" and draw out its authentic sound, rather than impose on it my perception of what it should sound like – it takes time, patience and love to truly understand its depth and possibilities.'
– Emily Sun