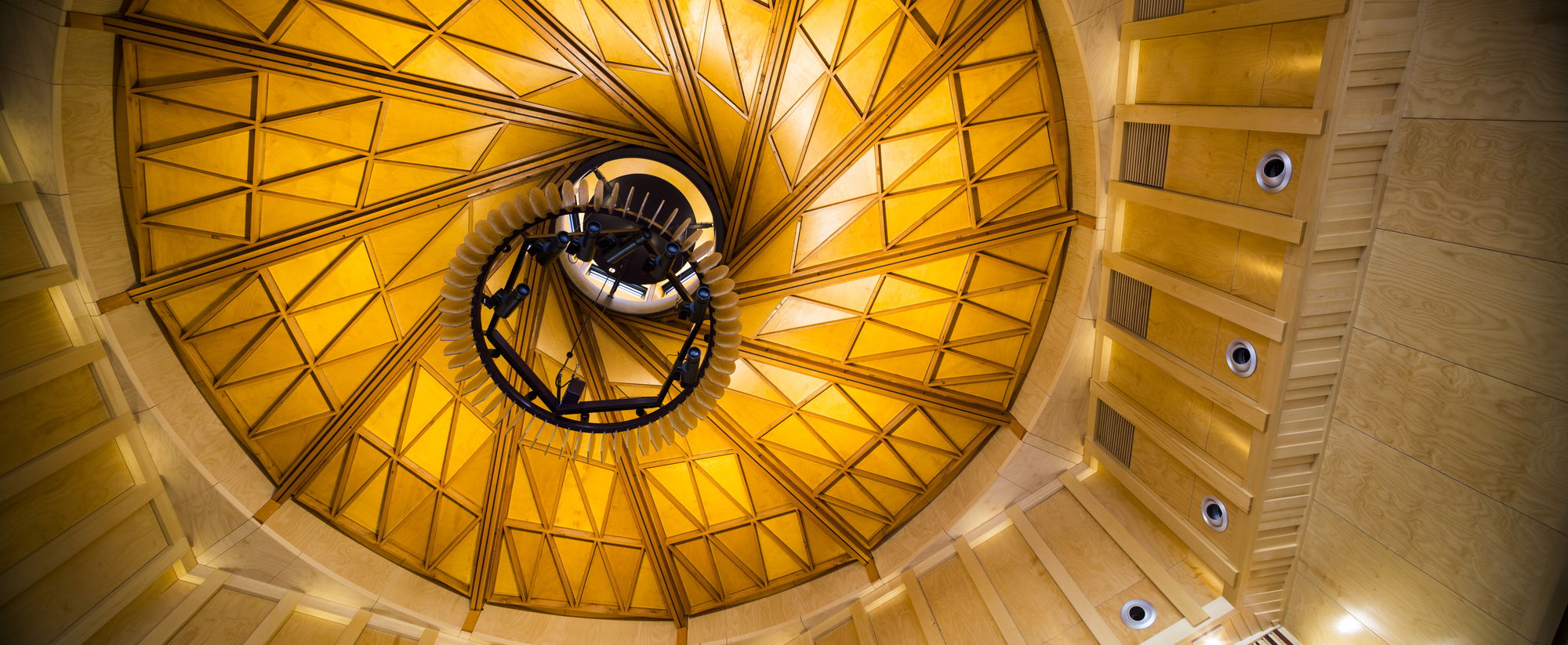 Reciprocal Frame
The UKARIA roof embodies awe and humility, energy and balance in a visually dynamic structure that employs the ancient engineering principles of the reciprocal frame – a primitive structure used in Japan, China, the Philippines and India for building huts and houses as early as the twelfth century. It's also the inspiration for the UKARIA logo.
'I've always had a soft spot for the reciprocal frame,' Anton admits. 'Starting out with the idea of a circle, that sense of togetherness, the fact that it had a dynamic quality about it… it was clear from the outset that the reciprocal frame was very applicable for this space. It has this unbelievable sense of rhythm and movement, and it's completely self-supporting.'
'The way it works is that each beam rests on top of the next beam: in the simplest way, you put a pin through the two so that they can't separate, and then the next one is on top of the previous one, and so you go round until eventually you come back to the beginning and the very last one is underneath the first one. Every beam is supported by another beam, so the force just keeps going round and round, and it's completely stable. It also puts no outward force onto the walls – it just sits lightly on the top. It could almost levitate!'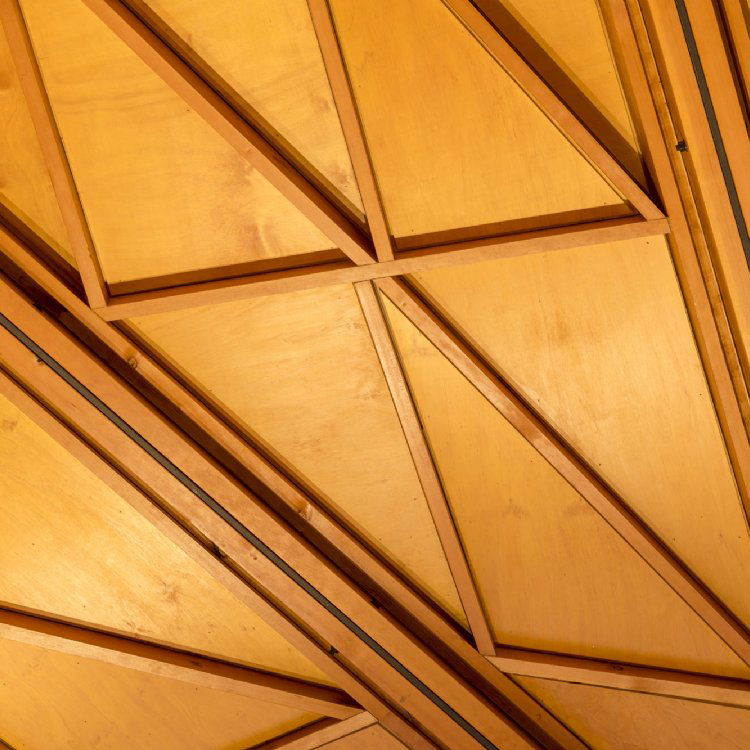 Twelve Oregon and steel composite beams interlock at the crown, spiralling around a central oculus (traditionally a smoke hole in the ancient designs) to allow additional natural light in through the roof. Once the frame was in place, secondary structural members were added to support the ceiling.
Spanning each of the twelve primary beams are sixteen smaller triangular hoop pine panels – stained to tone down the contrast with the Oregon beams – within a 'honeycomb' type tracery of dividers. 'The architectural desire was for the panels to be generally "shallower" at the centre of the room so that the dividers between the cells were more prominent at the sides of the room and reduced towards the centre; giving an effect similar to the tracery of vaulting in Medieval architecture,' Cameron writes.
Each panel is fixed at a different depth to provide scattering based on an inverted Fibonacci sequence. 'The scattering design broadens the reflection pattern from the ceiling to reduce the strength of focusing as well as avoiding the "back-scatter" that would occur at high frequencies from a ceiling with no infill panels,' Cameron explains.
'You don't really see it, but the panels are all at different depths,' Anton says. 'We're only talking millimetres. But it's those millimetres that are so important. I think it works so well because when people walk in, their eyes go up to the ceiling, and they say Ohhh!.'
'Cathedrals have religions connotations for a lot of people,' Ulrike says. 'There's a sacredness [to the UKARIA roof], and that's part of the height as well – it's like a clearing, an opening. At one stage I thought: this actually is like a cathedral for music!'