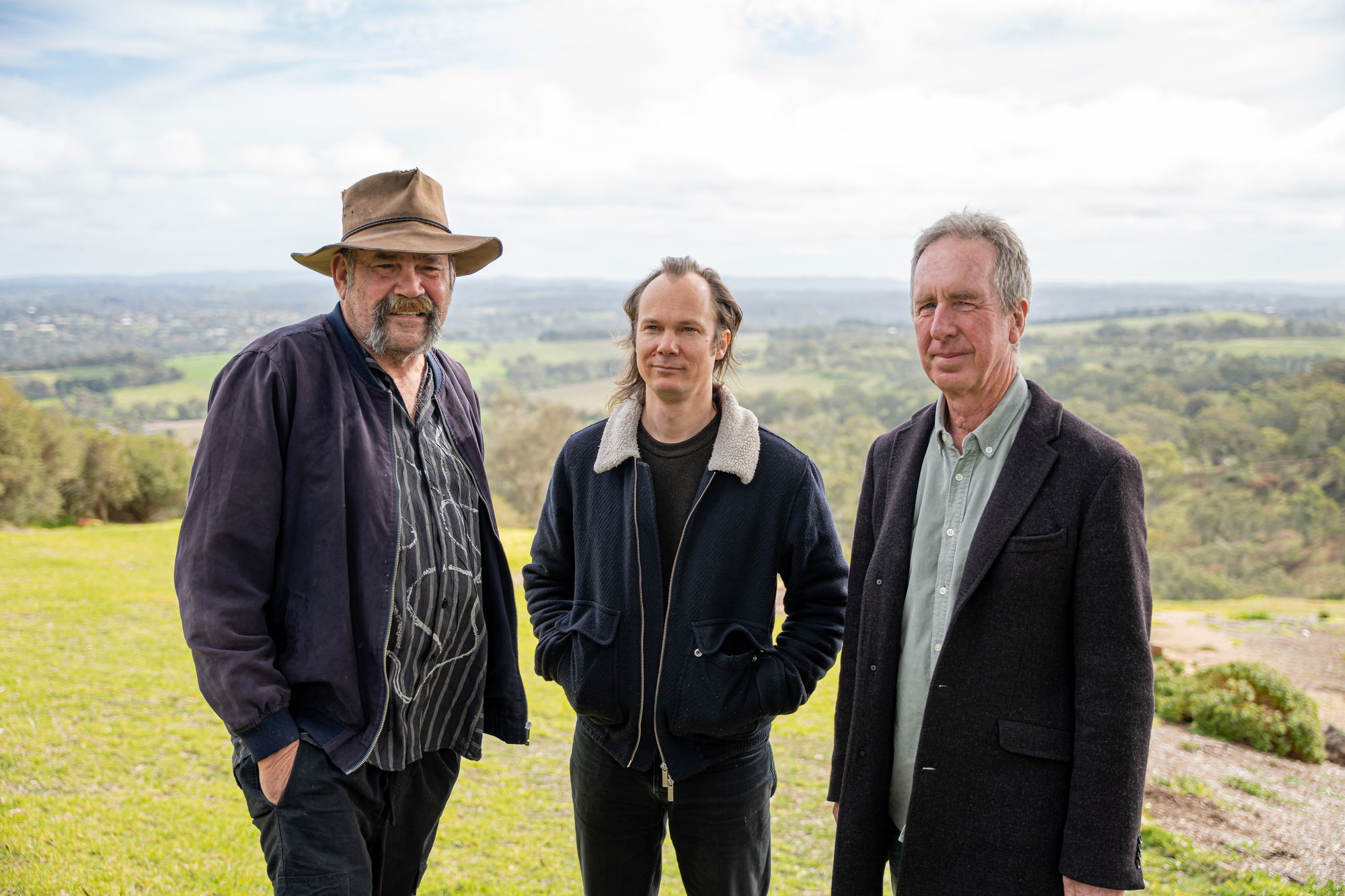 Mark Atkins, Erkki Veltheim & Tos Mahoney Residency
MONDAY 25–SUNDAY 31 JULY 2022

MUNGANGGA GARLAGULA
(Wajarri: Sitting by the fire at night)
Mark Atkins is a legendary didgeridoo virtuoso and innovator, whose music and words consistently jump borders and upset ready definitions. Erkki Veltheim is a groundbreaking composer and performer, whose work spans noise, audiovisual installation, improvisation, notated music, electroacoustic composition, pop arrangements and cross-disciplinary performance. Together with Tos Mahoney, Artistic Director of Tura, they have been creating a new stage show – this UKARIA residency marked the second creative development of Mungangga Garlagula. The guiding principle for the work remains the same, but its final form has been augmented with the use of electronics and recordings to summon disparate musicians from across Australia.
Mungangga Garlagula is commissioned and produced by Tura, supported by Ulrike Klein AO and the Australia Council for the Arts. There will be a complimentary showing entitled Nightfalls at UKARIA Cultural Centre on Saturday 22 October 2022 as part of Finding Our Voice. Click here to book your tickets.
On Thursday 28 July 2022, UKARIA's Acting Communications Manager Ben Nicholls chatted with the creative team about the project. In conversation, Mark is easy going and understated, insisting that this project is just 'something a little different', built on 'the little things.' But all of those little things – forming an invitation to sit with him by firelight and hear his haunting stories – promise something new in Australian art and storytelling.
Mark: Any story, every story you can think about, it's been built off, or it's coming off the back of telling by fire. And all the stories that I've grown up with as a kid, with Uncles and Aunties just telling stories around the fire, you know, tall ones too, sure… but you always had that warmth of that fire, you know, and you could be leaning in, listening, and watching, through the smoke and the sparks, then the flickering flames, the face. And they're always there in your mind, and then you sort of lean back a bit and you look back into the shadows. It was just that place, you know, and that's what I'm looking at trying to create… people come into a cold place and then the stories start and the fire flickers.